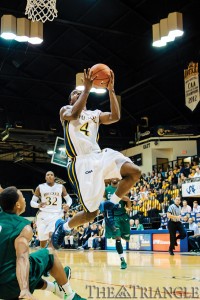 Senior point guard Frantz Massenat and the Drexel Dragons have played the equivalent of 2.75 basketball games in their last two outings, participating in two consecutive triple-overtime games. But they seemed no worse for wear in the home opener Dec. 4, as a number of players put up exceptional performances in an 85-82 triple-overtime victory over Cleveland State University (4-4).

Massenat led the way in the box score as well as on the floor. The offense, typically led by sixth-year shooting guard Chris Fouch, began to stagnate in the second half as Cleveland State's defenders began to identify Fouch as the Dragons' biggest threat.

So Massenat picked up the pace offensively, scoring four of Drexel's five points down the stretch in the second half and playing the role of the man in charge as he tended to do so often last season.

He finished the game with 21 points, nine assists, six rebounds, and only two turnovers. He converted 11 of his 16 free-throw attempts and was Drexel's most reliable weapon after halftime.

But when asked whether he thinks he will have to score like this every night, Massenat seemed unconcerned.

"I don't think so because of the fact that Tavon [Allen] is stepping in," Massenat said after the game. "Fouch, they keyed in on him, they were always on Fouch, and a lot of teams are going to do that, so other guys are going to have to step up. And our bigs were open under the basket and made layups when we needed it."

Massenat did have scoring help against the Vikings. Sophomore guard Tavon Allen, while inefficient from the floor and tentative at times, poured in a team-high 23 points on 6-of-21 shooting. Eight of his 23 points came in the overtime periods, including scoring four of the Dragons' 13 points in the decisive third overtime.

Head coach James "Bruiser" Flint was pleased with Allen's performance in the team's second straight marathon. He thinks these games will help his developing guard continue to grow.

"This is good for [Allen]," Flint said. "Why? Because he had his moments and he didn't have his moments. He's going to be in there for those types of situations, so hopefully this grows him as the season goes on.

"Guys have got to get used to these types of situations and making plays. Pretty much for the last five minutes of regulation, they didn't guard him," he continued. "They left him open and said, 'Yo man, make a shot.' Hopefully he gets more confidence so that the next time teams start doing that to him, he's ready to make those types of plays."

Massenat and Allen also saw support scoring from forward Dartaye Ruffin, who recorded his first double-double of the season with a season-high 15 points and a career-high 14 rebounds.

Ruffin entered the game averaging just under four points per game through the first six games and was known more for his defending and rebounding prowess. But the senior made light of the Vikings' lack of an inside game without changing much of his game.

"We had a good scout on them, and I think I was just in the right position at the right time," Ruffin said of his performance.

Wednesday night's marathon came just five days after an eerily similar contest in which the Dragons took the University of Alabama to three overtimes in the third-place game of the National Invitation Tournament Season Tip-Off at Madison Square Garden.

After holding a double-digit halftime lead, just like they did against Cleveland State, the Dragons saw the Crimson Tide roar back in the second half behind point guard Trevor Releford's 21 points. But then Massenat and junior forward Kazembe Abif put Alabama to bed in the third overtime.

"My only thought after the game was that we really grinded it out," Fouch told reporters after the team's first triple-overtime victory. "Things weren't going our way. We just kind of were back and forth for a little while, but when it came down to it, we buckled down and made stops when we needed it and got the win."

Massenat had a similar sentiment after Wednesday night's marathon victory over the Vikings.

"They've got a balanced team with guards and guys they can throw it in the post to," Massenat said. "So they're no slacking team, so to be able to come here and grind them out to the very end and win is big for us and for our team."

But Flint knows that his team has a lot to work on, and they won't have the good fortune of five more days off to recover and progress.

"They're not going to stop the games because we went to triple overtime," Flint said with a laugh after the game. "We put ourselves in this situation, so we've got to be ready to play the next game. We've got to prepare."

And part of that preparation, the head coach said, has to start on the defensive end. The Dragons limited Cleveland State to only 20 points in the first half, marking the fifth straight game in which they have limited an opponent to 23 or fewer points in the first half.

Flint is clearly scouting opposing teams to a tee and drawing up defensive schemes designed to extinguish opponents' scoring strengths early on. But he is also clearly displeased with the way his team has failed to recognize and defend the halftime adjustments that opponents have made, especially against the Vikings.

"The defense was awful, especially the second half," Flint said. "We talked about it. Our tagging was absolutely horrendous in the second half, and that's why the kids shot all those three-pointers wide open."

The Vikings made six successful three-point attempts in the second half and finished the half shooting 70 percent from the field, a big reason for the second-half comeback.

The Dragons will have a chance to improve that second-half defense, continue to develop a more balanced offense, and look for their third straight win Dec. 7, when they host winless Tennessee State University at the DAC at 4 p.m.