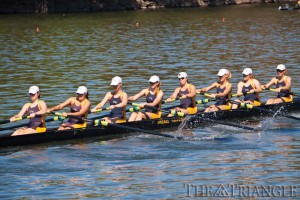 The Drexel men's and women's crew teams had a great start to the spring season March 10 on the Schuylkill River. They won five of the six races they were involved in and were able to beat St. Joseph's University, La Salle University and the University of Delaware. This is the kind of start the Dragons were looking for, and they hope that they can spring into a big year.
For the men, the second varsity eight boat started the day with a first-place finish in just over 6:12. The second men's boat finished second, so Drexel was able to capture the top two spots in the field and run away with that victory. La Salle finished third, followed by St. Joes and Delaware. Drexel really showed dominance with its two boats in beating the rest of the competition.
With a time of 5:56.8, the varsity eight boat of Randall Lee, Vanja Busic, Sebastian Ryan, Lorenzo Albala, Kurt Linton, Aleksandar Radovic, Marko Durica, Brian Timlin and Michael Faust was able to finish two seconds ahead of the top La Salle boat.
Another good sign for the Dragons was that the freshmen also dominated the day, showing that Drexel should have a good team for some time. The Vince Vidas boat finished in first place with a time of 6:10.1.
The men were able to win every event they competed in and showed once again that Drexel will have another strong crew team. The team contributes a lot of its success to all the work everyone puts into the season in the fall and winter. They like to see it pay off, especially when they get the kind of results they have over the past few years.
The women also showed a very strong freshman class, winning the freshman eight race with a time of 7:07.0 — a full 14 seconds better than the second-place Delaware boat. Winning by more than 10 seconds in such a dominant race is a big accomplishment for the women.
The John A. Daskalakis boat also finished first with Caitlin Meehan, Asiya Mahmud, Mallory Sykes, Elizabeth Campanella, Emily Coyle, Amanda O'Malley, Alyssa Leahy, Jackie Bender and Colleen Delaney. The women's second varsity eight shell clocked in at 6:45.2, followed by Saint Joseph's, Delaware, Drexel's second boat and La Salle, respectively.
The women's varsity eight boat was the only Drexel boat that did not finish first. Its close second-place finish behind St. Joe's was all that separated the Dragons from a clean sweep on the day.
Drexel's next competition is March 17 against Villanova University and Franklin & Marshall College. The teams hope to continue with their strong finishes from the past weekend and show another strong performance this weekend.