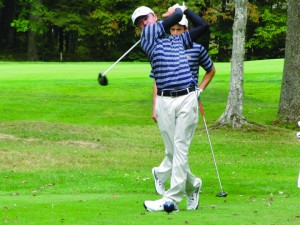 Before the World Cup began; before LeBron James was a free agent; before Scott Hartnell was traded, a trio of Drexel men's golf team members got their respective sporting summers off to a big start at the 114th Philadelphia Amateur Championship from June 9 to June 14.
The tournament's format was, stripped of golf terms and confusing scoring systems, a simple event. The first day consisted of 36 holes of "stroke play" played at White Manor Country Club and Overbrook Golf Club. After the first day of play, the 32 best golfers in the stroke play round advanced to "match play" in which the competitors were seeded from No. 1 to No. 32 and paired in descending order.
Drexel was represented by rising juniors Christopher Crawford and Alex Kane, as well as former Dragon and current golf team assistant coach Ben Feld.
Kane finished tied for 67th with a two-day total of 153, shooting nearly identical rounds in stroke play.
Crawford shot the most consistent — and efficient — pair of rounds of any golfer on that first day, carding a 68 at Overbrook before putting up a 70 at White Manor; his two-stroke differential between rounds was the smallest gap of any golfer who managed to card a sub-70 round in stroke play.
His two-round total of 138 saw him finish tied for second overall, just one stroke behind Merion Golf Club's Michael McDermott, but received the No. 3 seed in the next day's first round of match play.
But the rising Colonial Athletic Association star said he wasn't focused on leaderboard-watching during stroke play; it was more about watching his own clubs.
"The goal entering the first day is just to get your game in shape and advance into the match play round," Crawford said. "I felt very confident in my game entering the tournament and was happy with how I played that first day."
Meanwhile, Feld put together a two-day total of 147, carding a very solid 72 at Overbrook before clinging to every stroke of the back nine during a 75 at White Manor. He finished tied for 26th and was granted the No. 30 seed in the next day's elimination section — which pitted him against his former teammate and good friend, Crawford.
Feld said he was thrilled to know he had made the match play round; that is, until he realized his opponent.
"I was upbeat and excited before finding out I was playing Chris," Feld said. "We had both joked about playing each other in the round of eight or the Final 4, but I don't think either of us thought it would actually happen."
Both he and Crawford said that they traded a few friendly barbs the night before the match.
"I joked with him the night before to take it easy on me," Feld said with a laugh. "I didn't want to embarrass myself."
But when it comes down to it, the two are all business on the links, as Crawford has proven earlier this year. They were more focused on advancing to the next round to be affected by playing each other.
"Ben and I have become close friends after playing together last year and now he's the assistant coach, so there's an aspect there that made it a little tough," Crawford said. "But we're both very competitive guys and wanted to win."
Crawford came out ready on the first hole of the day, shooting par while Feld took a bogey to give Crawford a one-stroke lead in the early going.
The rest of the front nine, however, belonged to Feld.
The assistant coach ripped off eight straight pars, hitting the ball extremely consistently and finding a rhythm. Crawford struggled to keep up, losing a stroke to Feld on holes four, five, seven, and eight while only picking up one stroke on hole six.
The No. 30 seed was taking the widely accepted better player for a ride, and it was mainly because Crawford couldn't find a rhythm on the same course he had shot a one-under par 70 just the day before.
Feld said he kept his focus steely out of the gates, mainly because it seemed like it was his only hope.
"I knew that I had no choice but to bring my A-game because if I didn't, a player of Chris' caliber will run you over," Feld said of his excellent start to the match.
After losing another stroke on hole number 10 and hitting even with Feld through hole 14, Crawford's window to close the gap was waning. So he took matters into his own hands, notching birdies on 15 and 16 to pick up two strokes and shrink the gap to a slim one-stroke difference. The two shot an even-par on the 17th hole, setting up a dramatic final chance for Crawford.
He nailed it.
The Bensalem native carded his third birdie in the last four holes of the round to draw even with Feld at two-over par 73 and force a sudden-death playoff.
The two both shot even-par 4 on the 19th hole, leading to the par-4 20th hole. Crawford needed four strokes to sink his ball, while Feld needed just two to bring his ball within 15 feet of the hole. When Feld drained the birdie putt to win after the exhausting first-round matchup, he picked his ball out of the hole, took off his hat, and walked over to his friend to give him a hug.
Feld won, but the margin was razor thin, and he knew it just as easily could have gone the other way.
The assistant coach said he felt he hadn't been shooting very well in the weeks leading up to the tournament and was just happy to make it to match play, where he would face a talented golfer on top of his game in Crawford.
But when Feld hit the White Manor links the morning of June 10, something clicked.
"I played just well enough on the stroke play day to get into match play, and something just clicked on the range before I played Chris," Feld said.
"To be in a battle with him down the stretch was satisfying enough to me, but to do what it took to beat him in a playoff gave me the confidence going forward that I could beat anybody in the tournament."
Apparently the win was all Feld needed to turn his recent game around. After topping Crawford in the first round, he went on to beat No. 20 seed Sam Soeth with two holes to spare in the Round of 16 and No. 7 seed Alexander Hicks with four holes to spare. Feld's reign of terror came to a close against No. 26 seed Nelson Hargrove in the Final 4.
While he certainly would have loved to see the championship match versus eventual champion Jeff Osberg, Feld said he was just happy to get as far as he did.
"Going into the tournament, I knew if I could get into match play that anything could happen," Feld said as he reflected on the week that was. "But I didn't foresee a Final 4 run."
The two have busy schedules for the rest of the summer, including the Philadelphia Open and the Pennsylvania Amateur Championship.
Feld is back in action July 7 at the Sunnehanna Country Club for the R. Jay Sigel Match Play Championship.
Crawford will continue his summer play at the Eastern Amateur Tournament in Portsmouth, Va., beginning July 10.