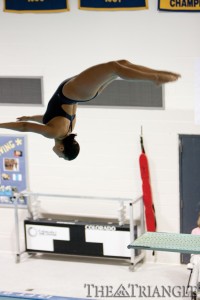 The Drexel men's and women's swim teams are in Fairfax, Va. to compete in the Colonial Athletic Association Championships. Events started Feb. 22 and continue through Feb. 25.
Drexel looks to postseason play as the men's team compiled a 6-2 record after defeating Howard University and Lehigh University in their last two regular-season competitions, while the women finished 2-7 overall. The Drexel men's and women's swimming and diving teams wrapped up the season with a combined 18 first-place finishes in the meet against Lehigh in late January.
The men were looking to continue their nice season, and so far they have proved why they had such a strong regular-season record. In the 200-meter freestyle relay, the men brought home a fifth-place finish. In the 200 individual medleys, Alex Galinskiy finished with a strong seventh-place finish out of 16.
Last season, Drexel concluded the 2011 CAA Championships with many personal-best times and some school records. The Dragons also had 25 new additions to the all-time top-five list. They are out to continue their success at this event and show the rest of the conference how good they are.
The women's side has struggled this season and has not performed great at the championships, either. They made it to the consolation round for the 50-meter freestyle, but other than that they did not have many successes Feb. 23.
The bright spot for the day was Stephen Cal finishing second for men in diving. He had a different kind of year being the only diver on the team, but he went to Virginia motivated and has performed well so far.
"Stephen always performs well at competitions like that, and we completely expect the same from him this year," diving coach Larry May said. "We are proud of the way he has stayed with it this year and hope he can finish the season strong."
As the weekend continues, the team hopes to build on some success and finish up strong. Some of the big events include 200-meter breaststroke, 400-meter freestyle relays, and 3-meter diving finals.
If the team can build some momentum there, some of their athletes have the ability to compete in the NCAA zone meets with the hope of making it to nationals. That is the true measure of success; if someone can get to the national meet it would bring some credibility to the program and lead to future successes.