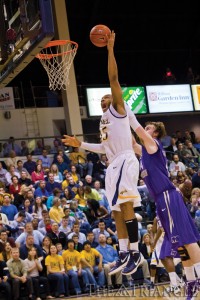 If there were a night in which Drexel men's basketball has seen more positives, one would be hard pressed to find it. The Dragons defeated James Madison University 78-61 at the DAC Feb. 22 for their 16th consecutive victory.
The win gives Drexel (24-5, 15-2 Colonial Athletic Association) the second-longest active Division I winning streak in the nation, trailing only the No. 1 University of Kentucky's 19 straight wins. Not only are the Dragons hot, but with the win over the Dukes (11-19, 4-13 CAA) and a George Mason University overtime loss to Northeastern University about half an hour later, Drexel clinched the top seed heading into the CAA Tournament.
"It feels good to be on a long win streak like we are," junior guard Chris Fouch said in the postgame press conference. "Not a lot of teams can say that they've won that many games in a row, and we take a lot of pride in that, too. We speak about it before every game; we try to keep the win streak alive with positive energy."
Another highlight was the Dragons' turnover numbers. They only turned the ball over three times, which is a school record. They were also aggressive on the defensive end, forcing 10 JMU turnovers and turning them into 17 points — incidentally the final margin of victory.
"You go through a game, and you only have three turnovers. That means that we didn't force, and weren't doing things that we weren't supposed to do out there," Drexel head coach James "Bruiser" Flint said.
The last, and some might say most important, highlight of the night was senior forward Samme Givens' performance on Senior Night. The 6-foot-5-inch Philadelphia native had a good, but not outstanding, performance, scoring 18 points and pulling down eight rebounds. The game was Givens' final at the DAC in his four-year career in University City.
The DAC Pack is famous around the city for its "eloquent" posters, but one shown during this game was one of the most memorable:
"[Samme Givens:] heart of a renegade, heart of a lion, heart of a Dragon and the soul of a champion at every level."
The significance of Givens' night, though, lies within that eighth and final rebound — the 1,000th of his Drexel career. Givens now becomes just the third Dragon ever to score at least 1,000 points and 1,000 rebounds.
"For him to get 1,000 points and 1,000 rebounds is incredible, especially for his size," Flint said. "I told him in the locker room, the [other] guys who [scored 1,000 points and had 1,000 rebounds] were guys who actually played at the next level."
Flint went on to say that Givens' career has been a memorable one, among the best he's seen.
"He's had a great career," Flint said. "He'll probably be All-League again, two big seasons in a row. We hope we go to the postseason for him so he ends his career right here. But he's been one of my best players here, and he's been one of my best players in my career, and he's been an even better kid."
Flint reminisced about a specific instance early in Givens' career, after which he knew Givens would be one of the great ones.
"One time we played Kentucky … and he had 10 rebounds against them," Flint said. "I tell everybody, the one thing I know [Givens] can do, no matter who we're playing against, is rebound."
When asked about the entire experience from his point of view, Givens spoke about family and honor. He pointed out that he is a Philly kid and that his entire family came out on Senior Night to support him.
"I'd say there was about 45 people in the stands that were just looking at me the whole time, waiting on [my rebound]," he said. "Like everybody's saying, I'm on a list with a lot of good people, and I'm just appreciative to be on that list, especially at my height and my size and playing the position I play. It's also a testament to [Bruiser] because he puts me in the right position and the right places for me to either get buckets and to get rebounds."
Despite all of the accomplishments and accolades, the game wasn't all that easy for the Dragons, at least until the second half began.
The Dukes were actually able to control the floor for most of the first half, beating the Dragons where no team has been able to this season: the three-point line. At one point, Drexel was actually trailing JMU by 11 points as the Dukes, despite being shorthanded, were leaning on redshirt-junior forward Andrey Semenov throughout the first half.
Even though JMU did shoot almost 64 percent from beyond the arc in the first, Drexel was able to chip away slowly at that lead, eventually heading into the locker room down by just one. They also headed into the break with all of the momentum, coming off the coattails of Fouch's buzzer-beating three-pointer.
Once the second half began, Drexel completely took over. First, Drexel went on an 11-1 run out of the locker room, and they were eventually able to stretch that momentum into a 17-point lead, which they held until the final buzzer.
"One thing about James Madison, you get your opportunities to score," Flint said of the Dukes' defense. "That's one thing they do; they do give you opportunities to score. They're not a pressure team, and they sort of pack it in on us and say, 'We're not going to let you kill us in the post; we're going to let you shoot jump shots.' That's sort of how they play us."
Drexel, now a team that is receiving votes in the coaches' poll, is commonly regarded as the sixth team in a city of five collegiate basketball programs. So naturally, some may want to view the University as a second choice for athletes, and there may be some truth to that.
"[My players] get mad when I say that the only reason you come to Drexel is because the other teams in Philly didn't recruit you, but [the other teams] wish they had them now," Flint said of his players and the talent they've displayed this season.
Those votes in the coaches' poll, 13 of them in the most recent, places the Dragons as the No. 30 team in the country, not far outside the top 25. But despite the tough love from the committee, by winning the regular-season championship, Drexel has guaranteed itself a postseason berth. Though their current automatic berth is only good for a National Invitation Tournament invite, it will be the first time Drexel will advance to the postseason since 2007.
Up next for the Dragons is their journey to attempting to secure that postseason berth that everyone is vying for, and that is to the NCAA Tournament. In order to get there, Drexel will have to win the CAA Tournament.
The tournament will be in Richmond, Va. March 2-5, and the Dragons have already secured a first-round bye as the top seed.
Despite all of this, Drexel still has its final regular-season game to play, and that will be in Norfolk, Va. Feb. 25 against Old Dominion University. The matchup is the only one between the two teams this season, and the Dragons will be looking to extend their winning streak to 17 overall and 16 in CAA play — just one short of the conference record.
The game can be seen on Comcast SportsNet and will tip off at 4 p.m