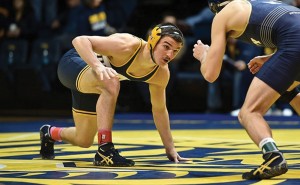 The Drexel University wrestling team's junior Matthew Cimato won the 149-pound championship at the 2016 Eastern Intercollegiate Wrestling Association tournament in Princeton, New Jersey March 6.
With his victory on Sunday, Cimato became only the second wrestler in Drexel history to finish in first place in the 149-pound division at the EIWA tournament.
Cimato, who was the two-seed in the 149-pound tournaments, defeated Cornell University's Joe Galasso 5-4 after he scored with an escape as time expired.
His journey to the finals began March 5 with a first round win by major decision against Hofstra University's Kyle Krasavage. In the second round, Cimato narrowly beat The United States Naval Academy's matchup by a score of 5-4.
In the semi-finals on Sunday, Cimato beat Bucknell University's Victor Lopez, the tournament's 6-seed, by a 9-0 major decision and advanced to the finals.
The tournament victory earned Cimato a trip to National Collegiate Athletic Association tournament at Madison Square Garden, which will begin March 17.
After a third place finish in the 125-pound EIWA tournament on Sunday, Drexel sophomore Zack Fuentes will join Cimato with a trip the NCAA tournament.
Fuentes, who was the five-seed in the 125-pound tournament, defeated Cornell University's Dalton Macri in quarterfinals on Sunday with a 4-2 decision. Despite losing in the next round to Bucknell University's Paul Petrov, the tournament's one-seed, Fuentes' victory over Macri in the quarterfinals guaranteed Fuentes a third place finish and a trip to nationals.   
While Cimato and Fuentes are the only two wrestlers from Drexel who qualified for the NCAA tournament, four other Dragons placed in the tournament.
Junior David Pearse, sophomore Austin Rose and sophomore Joey Goodhart came in seventh place in the 133-pound, 165-pound, and 285-pound divisions respectively. All three of them, Pearse, Rose and Goodhart, had a 3-2 record in the conference tournament.
The sixth Dragon to place at the tournament was sophomore Nick Elmer. After posting a 2-3 record last weekend, Elmer placed in eighth in the 174-pound division of the tournament.
Now that the EIWA tournament has passed, the season is all but over for Drexel's wrestling team. Since Cimato and Fuentes both qualified for the NCAA tournament, they will travel to New York on March 17 to compete at Madison Square Garden. In addition, teammate Joey Goodhart will compete at the tournament.