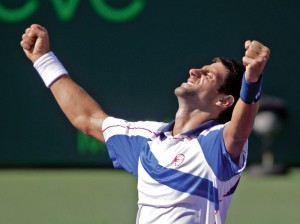 Sunday, May 22 marked the start of the French Open. Each year, tennis players from across the globe compete on the famous Roland Garros courts to earn a Grand Slam title. This year is no different.
Even with tennis heavyweights strutting their stuff on the clay, all eyes seem to be on one player — the Serbian super star, No. 2 seed Novak Djokovic.
Djokovic is tearing up the courts and mowing down any player in his way. He began his French-capades with a first round 6-2, 6-1, 6-3 win over the Netherlands' Thiemo de Bakker.
Djokovic seemed to use the momentum from his first match to steam-roll Victor Hanescu in the second round. The Serb won the first two sets, and then Hanescu retired in the third due to an injury.
Some of you may be thinking that it's expected for the No. 2 in the world to win his first two rounds of play. That may be true, but his French Open wins aren't why he's the talk of the town.
Dating back to December 2010, Djokovic has defeated 41 consecutive competitors. In the 2011 season alone, he has won 39 matches straight, which makes him a front runner for most consecutive matches won by a male player in a single season.
There have only been three other men who have won more matches in a row — one of which is John McEnroe.
Djokovic is just three matches away from tying with McEnroe for the best start to a tennis season. McEnroe holds the title at 42 wins.
So what is going through Djokovic's head? Does he feel pressured to keep the streak alive? He said he's proud of his accomplishments, but tries not to think about them — he wants to play to win, not just to maintain a streak.
He also said that this is the most successful five or six months of his tennis career, and he owes it to his gluten-free diet as well as his exceptional physical conditioning.
In the next round, Djokovic will face Juan Martin del Potro, who defeated Slovenia's Blaz Kavcic 6-3, 6-2, 6-4 to advance in the tournament. Del Potro sat out most of the 2011 season after having surgery on his right wrist.
Although all eyes are on the Serb, let's not forget about, oh say, the No. 1 seed on the men's side, Rafael Nadal, or No.1 on the women's, Caroline Wozniacki.
First, let's start with Spain's best male tennis player — Nadal usually dominates on clay, but lately he has been struggling on his turf of choice.
Prior to the French Open, Nadal fell to Djokovic in straight sets 6-4 6-4 on clay at the ATP Internazionali BNL d'Italia, also known as the Rome Series.
It appeared as though Djokovic's shellacking put Nadal's mental status in limbo. American John Isner, ranked No. 39, tried to capitalize on that for the first round of the French Open — but ultimately he couldn't pull off the win.
That's not to say that Isner didn't give Nadal a run for his money. The two duked it out in a 6-4 6-7 (2), 6-7 (2), 6-2, 6-4 battle, and Nadal came out the victor. This was the first five-set match that the Spaniard has ever played in the French Open — it was also the first time Nadal has ever lost a set in the first or second round of the tournament. Nadal's second round match wasn't much easier. Although he won 7-5, 6-3, 7-6 (7-4) against fellow Spaniard Pablo Andujar, each point was a battle.
Although Nadal pulled off two difficult early round wins, many speculate that if there is a Nadal-Djokovic final, a fresh face might be kissing the victorious trophy.
On the women's side of the draw it's anyone's game with powerhouses Venus and Serena Williams not participating – not to mention the fact that Kim Clijsters, who was favored to win the whole tournament, got knocked out in the second round by Arantxa Rus 3-6, 7-5, 6-1.
With these major threats eliminated, Wozniacki is the front runner to win.
The talented Dane defeated Japan's Kimiko Date-Krumm 6-0, 6-2 to advance to round two. She then faced Canada's Aleksandra Wozniak — yes you read that correctly, Wozniacki played Wozniak; that must have been quite the tongue twister for the umpire announcing their match.
In the end, Wozniacki took down the Canadian 6-3, 7-6 (8-6).
With that said, there are other fan favorites from both the men's and women's sides who are still in the competition.
On the women's side, No. 7 seed Maria Sharapova came back against Caroline Garcia, after losing the first set 3-6, and won the next two 6-4, 6-0. No. 3 seed Vera Zvonareva as well as No. 8 seed Sam Stosur both advanced to the third round of the tournament after defeating tough competitors.
On the men's side, No. 5 seed Robin Soderling has moved on to the third round after defeating Albert Ramos. American Marty Fish has also advanced to the next round, along with British favorite Andy Murray and Swiss sensation Roger Federer.
Even though predictions have been made about which male and female will walk away with the title, there's no telling for sure — after all, the games have just begun.