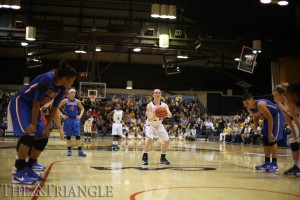 Coming off a 2012-13 season in which the Drexel women's basketball team won the Women's National Invitation Tournament, Athletic Director Eric Zillmer announced May 30 that head coach Denise Dillon has agreed to a multiyear contract extension that will keep her at the school through 2020.
The contract extension is not only for the record-breaking season that Dillon and her Dragons team had this past season. It is also to reward the winningest coach in Drexel history who has raised the bar of performance for the past five seasons. During that time, Dillon has guided the Dragons to the postseason every year, including a Colonial Athletic Association Tournament championship and NCAA Tournament berth in 2009. The Dragons qualified for the WNIT in each of the following four seasons. In 2012, Drexel won its first-ever postseason game under Dillon in the first round of the WNIT. Dillon followed that victory in the WNIT with the memorable championship run in 2013.
"Denise has led our women's basketball team on an incredible run over the past few years, capped off by this year's historic WNIT victory," Jim Tucker, senior vice president for Student Life and Administrative Services, said to drexeldragons.com. "I'm pleased that she will be staying with the Dragons and confident that she will continue to do great things with this talented team."
"I'm very glad I get to continue coaching here. I wanted to be a part of Drexel as long as I can, and I'm thankful Drexel was able to make that happen," Dillon said of her new contract. Dillon is a two-time CAA Coach of the Year, once in 2005 and again in 2009. Only five coaches have won 100 regular-season games in the CAA, and Dillon is one of them.
There will be new challenges facing Dillon in the first year of her new contract. The Dragons will lose key contributors due to graduation. First-team All-CAA guard Hollie Mershon, third-team All-CAA forward Taylor Wootton, leading shot blocker Nicki Jones and defensive stopper Renee Johnson-Allen will no longer be part of the team. Aside from guard Meghan Creighton, no other player in the starting five of the WNIT Championship Game will return. Other players will have to improve their game and step up to replace the production that will be lost.
"It's an opportunity for them to step up. Fiona [Flanagan], Abby [Redick], and Tory [Thierolf] have to lead this team now; it's their turn," Dillon said.
The Dragons have been one of the top defensive teams in the country, ranking in the top 10 in both 2011 and 2012. Defensively, the Dragons always play well together and are strong on the defensive end, but it is the offense that most worries Dillon.
Mershon and Wootton, the team's two leading scorers, leave tough holes to fill. However, the Dragons will be bolstered by the return of junior forward Jackie Schluth, a player whom Dillon believes will be a key contributor to the team next season.
"We are looking forward to the return of Jackie. She's worked hard, and we are looking forward to getting her back on the court," Dillon said of Schluth, who missed last season due to a knee injury.
New recruits, who will look to bring versatility, flexibility and scoring to an already formidable Drexel team, will also bolster the Dragons.
Alexis Smith from Calvert High School in Maryland is a combo guard who brings a scorer's mentality to the team. Forward Sarah Curran will be the third player from Archbishop Carroll High School in Wayne, Pa., playing for Drexel this season. The final addition to the team is guard and forward Florence Outtara, a product of Life Center Academy in New Jersey.
"Losing so much in the senior class, we are going to count on the freshmen to make an impact and play some meaningful minutes," Dillon said .
Over the years, the Dragons teams have had players who complemented each other. This upcoming season will be no different, as Dillon has recruited players to complement her existing core. That core next season will be led by senior Fiona Flanagan and Abby Redick, both of whom will be looking to continue the legacy of raising the bar and leaving their mark as Drexel Dragons.