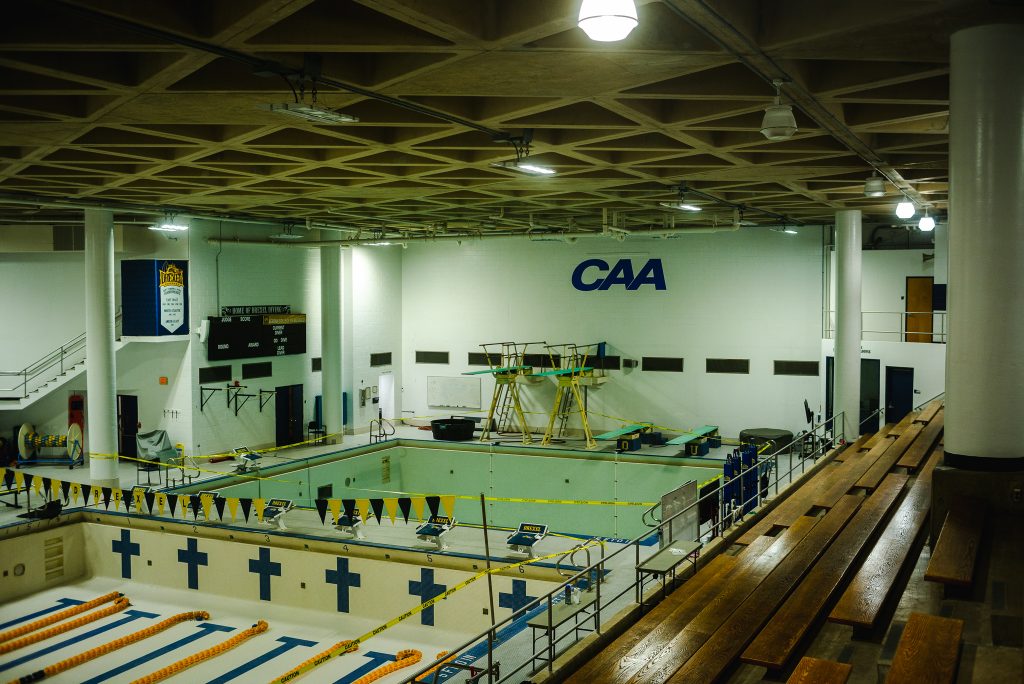 On the evening of May 8, Drexel's facilities employees were conducting maintenance on the pool when the valves in the mechanical room stopped functioning and it was forced to automatically drain. At the time of writing, the pool has still not been repaired. The once frequently used pool is now empty, surrounded with tape reading 'Construction Work.'
Dan Severino, the Assistant Vice President of Real Estate and Facilities, explained how this incident occurred. "Engineering was conducting some daily preventative maintenance when a series of valves that drain the pool unexpectedly failed to open. At that point, there was no means to stop the pool from automatically draining."
In other words, the valves that regulate the water in the pool and allow it to be drained in a controlled manner were not working. All of the water in the pool emptied out and could not be filled again.
Since the Athletic Department was forced to close the pool, Drexel's Varsity Swimming & Diving team lost its main training facility. As a result, a lot has changed for those forty-eight student-athletes. Currently, the team is divided into two different practice groups by whether they are going to compete on their own this summer.
For competing swimmers, Drexel has been able to utilize the University of Pennsylvania's pool. However, non-competing athletes have been more affected, as they were forced to stop swimming altogether and instead have practices on dry land.
The practice routine of 20-year-old Jessie Rothrock, one of the 'non-meet' swimmers, has changed a lot. Instead of swimming every day, Rothrock has to run or do indoor fitness workouts, partly on her own.
The transition from normal practice to dry-land workouts was not easy, as it was completely different from what Rothrock was used to.
"It is a different type of training. I understand why we need to do it because we need to stay as aerobically fit as possible, but it definitely is harder in the sense of it is not the type of training that I enjoy," said Rothrock.
Even though the situation Drexel's swimmers are currently facing is not ideal, the coaching staff is doing their best to keep up the fitness and fun level of the practices.
"My coach is very good at switching it up, we don't run every day. We've been boxing lately, which is a fun way to get your heart rate up and work on faster motions," said Rothrock.
After not being able to swim for a whole month, Rothrock's 'non-meet' practice group recently resumed practices in the pool again. They are now able to use UPenn's pool twice a week.
As UPenn's students are on summer break, and both Drexel's varsity and club swimming teams are not in season, the timing of the incident lessened its consequences.
"At least we aren't in season, but we definitely have cut back a lot on what we're able to do, which is unfortunate," said Rothrock.
When Drexel's swimmers will be able to return to their pool at the Daskalakis Athletic Center is still unknown. Facilities are experiencing delays due to supplier and shipping issues.
"The variables are parts sourcing, which could be several weeks out. Currently, we do not have info for ship dates on a few of the valves and motors," said Severino.
Rothrock expressed dissatisfaction with how Drexel Athletics has dealt with the situation.
"The biggest thing to know is the lack of communication. I feel like as an athlete you would expect them to be in constant communication and trying to find different ways for us to get into the pool or to stay in shape," said Rothrock. "Obviously it's hard because it's not an easy fix, but I think the Athletic Department could have stepped up a little bit."
However, the facilities team is confident that they will be able to fix the pool in a timely manner. Drexel wants to ensure that their Swimming & Diving team will be able to practice and participate when their new season starts in the fall.
"Restoring the pool for our athletics program has been priority one since this event happened," said Severino.
For the latest information regarding when the pool will open back up, visit Drexel's Recreational Athletics website.