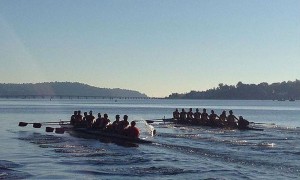 The Drexel University crew rowed their way to another successful weekend Oct. 25-26 on their home course as they competed in the Head of the Schuylkill Regatta.
"This was one of our bigger races in the fall season, just because it's on our 'home turf,' and colleges come from all over the country to try and beat us on it," explained Emma Compton, sophomore team member who raced in the fifth seat of the women's second varsity eight "B" boat last weekend.
In addition to the national competition that the Head of the Schuylkill draws, Drexel raced their local rivals, including Villanova University, Temple University, Saint Joseph's University and University of Delaware.
Drexel, who took gold in five races last year, defended their success at home, and took three first-place finishes over the weekend, keeping their winning streak at the regatta alive for the fifth consecutive year.
"As a whole, our team did amazing this past weekend," Compton said. "Both second varsity boats got first."
The men's second varsity eight "A" took gold with a time of 13:06.08, with the "B" boat coming in third, at 13:26.20. The women's second varsity "A" boat finished took their first place finish at 15:04.51 in front of Old Dominion University and the U.S. Naval Academy.
Additionally, the men's freshman eight boat took a first place finish with a time of 13:23.48, followed by the freshman eight "B" boat with a time of 13:45.87 in fourth place.
The men and women's varsity eight boats also took top three finishes, keeping the Dragon success-streak hot. The women's varsity eight boat finished in third place with a time of 14:27.68, with Navy taking first place and Trinity College taking second place. The men's varsity eight finished in a close second place at 12:35.71, only four seconds behind first place Vesper Boat Club. The men's varsity eight "B" boat took 11th place with a time of 13:36.16.
The women's freshman eight followed taking an eighth-place finish out of 36 boats, crossing the finish line at 16:08.87.
"I think that overall, almost every boat had a big win because we beat teams that we had lost to the weekend before and that's what we continue to strive for, constant improvement and never settling," Compton said, explaining the significance of each boat's performance in the Regatta.
"The team as a whole obviously wants to try to get more and more boats up on the metal stand as possible, but we are also always trying to enhance our times and push ourselves towards improvement on the erg and ultimately, on the water," she continued.
The Dragons will look to cut their times on the water before their last appearance of the fall season at the Frostbite Regatta. They hope to make a splash before they begin to prepare for their spring races.
"For Frostbite … we definitely want to leave an impression — we want to be in the other teams minds all throughout winter and make them fear us come spring," Compton said.
Drexel will hit the water one last time until the spring at the Frostbite Regatta in West Windsor, New Jersey Nov. 8.