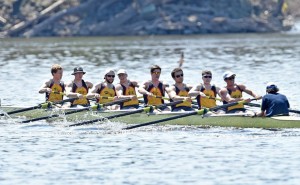 After a summer reprieve following a successful spring season, the Drexel University Crew team is back on the water—and by the looks of it, the team is still on a roll.
At the end of last season, the Dragons captured their third consecutive Aberdeen Dad Vail Regatta title, and additionally had a strong showing at the Intercollegiate Rowing Association's National Championship, taking 15th place in the nation.
They started off last year's season by taking three first place finishes at the Rumson Boat Race on the Navesink River.
If last year's start was any indication of how successful the team would be by the season's end, it looks like this season might be just as good—if not better.
The Dragons once again opened up their fall season in the Rumson Boat Race in Rumson, New Jersey, on Saturday, Sept. 19, the sixth year that the Rumson regatta has been held.
This year, however, Drexel took four top finishes instead of three, sweeping the regatta with Dragon pride. First place finishes were awarded to the women's varsity eight, men's varsity eight, and both the men's and women's second varsity eight boats.
The other competitors in the race were Rutgers, Villanova and Army. However, the race itself has some Drexel roots. Dan Edwards, the man in charge of running the race, is a former Dragon rowing coach himself; his contributions were key in forming the women's program at Drexel in the late 1980s. According to the regatta's website, the Rumson Boat Race was specifically designed so that the families of rowers or other local supporters could get a glimpse into what big-time rowing is about, without having to travel far to see it.
Carrying Edwards' Drexel rowing legacy is his daughter, Kate, a sophomore on the women's crew team, who clearly has rowing blood flowing through her veins.
This race was just the first of six regattas that the Dragon's will be participating in during their fall season, which serves to help prepare the team for the big time races that they'll participate in when the spring season starts.
Crew will be back on the water soon Oct. 4. The team will travel to Lewisburg, Pennsylvania to take on one of the Dragon's rivals, the Bucknell University Bison.