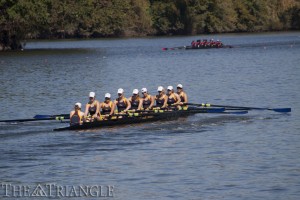 The Drexel crew team will be back in action Nov. 12 for the Frostbite Regatta, which will take place on the familiar Schuylkill River — a race that will mark the end of the fall season.
But the Frostbite Regatta may not live up to its name with weather forecasts predicting sunny skies and a high of 50 degrees on the day of the event, in contrast to horrible weather conditions that the crew team experienced during their previous regatta Oct. 29. Still, the Dragons had a good showing in the rain, snow and sleet, coming away with the men's and women's all-around point title.
Even though they performed well Director of Rowing Paul Savell would rather be racing in nicer conditions.
"We'll race in anything, but nice weather is always better," Savell said. "There are so many variables that go into racing already. We prefer to have no wind and good weather so conditions do not additionally impact the results of a race."
The varsity eight events were canceled due to severe weather, so the Drexel varsity eight boat hasn't competed since Oct. 22. The long layoff from competition may be some cause for concern, but the rowers themselves don't think so. The varsity eight rowers were disappointed that the events were canceled and are very anxious to show what they've got.
"The cancellation of our race last weekend was a disappointment for everyone in the varsity [eight] because the time and commitment we put in over the week in preparation for the race," senior Randall Lee, co-captain of varsity eight, said. "The [varsity eight], as well as the rest of the team, has gained [a] ton of speed since our last showing at the Head of the Charles."
Additionally, Lee doesn't think the varsity eight is at a disadvantage, even though they haven't raced in a while.
"I do not feel that racing last week has put us a step behind because we've continued to train with our end goal in mind, [the] Dad Vail [regatta]," Lee said. "Varsity eight's mentality is to show the entire country our speed. The cancellation of races obviously prevents us from doing so."
Savell thinks that because the Frostbite Regatta is a 2000-meter course, everyone is on the same page when it comes to preparation.
"This is our first look at the 2000-meter course this season," Savell said. "All teams are trying to quickly shift gears and get in practice starts and sprinting for this distance."
Drexel has made it a tradition to perform well in this regatta — last year they came away with five second-place finishes.
Savell is preaching more than just physical fitness as a key to success for the upcoming regatta.
"Attitude is always the key to success," Savell said. "If our rowers come out determined and focused, we should see our share of success."