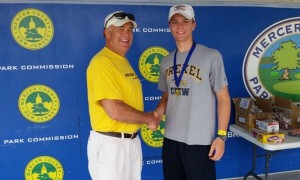 Justin Best's last name makes for an easy pun. Headline writers will rejoice in the ability to call him the "best" at what he does — row. And luckily for him, his last name is anything but a misnomer.
The incoming freshman member of the Drexel crew team is competing this summer on Team USA's rowing team, which is no small feat. He's competing on the global stage before he even turns 18, at the World Rowing Junior Championships in Rio de Janeiro. The championships take place August 5-9.
This isn't Best's first contest with Team USA, either. Last year, he competed with the team in Nova Scotia for the CanAmMex Regatta in the men's eight boat. The team won gold in his race. At the same regatta, the USA women's four and women's pair medaled as well.
This year, Team USA and Best are stationed in Rio de Janeiro for the World Rowing Junior Championships. His competitions began on August 6, and races continue through August 9. The competition will be held on the same course, Lagoa Rodrigo de Freitas, Ipanema Beach, as the Summer 2016 Olympic Games and Paralympic Games rowing events in Brazil.
The World Rowing Junior Championships is hosting teams from a whopping 54 countries. The U.S. is sending 13 different boats to compete in the event, in hopes of moving up the ranks to defeat reigning Junior Champs, Germany, and second place team Romania.
Thus far in the competition, the two qualifiers in the men's eight competition, the one that Best is rowing in, were Germany and Italy.
Italy edged out the U.S. by .39 of a second in the preliminary heat. However, the U.S. will still have a chance to compete in another heat to earn a spot in the final race.
On the bright side, a gaggle of other U.S. boats have already earned spots in their respective final races. Those boats include the women's pair, the women's four, the women's eight, the women's quadruple scull and the men's pair.
Best is a local champion, who is coming to Drexel from Unionville High School located in Kennett Square, Pennsylvania, located just a few minutes away in Chester County.
Results and updates for the regatta will be updated at www.worldrowing.com. Drexel crew will return to action in search of another successful season September 19 at the Rumson Regatta on the Navesink River, New Jersey.