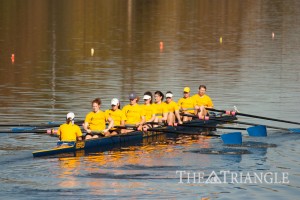 After dominating in their first regatta of the season, Drexel crew will host their next regatta Oct. 8 on the Schuylkill River. The successful afternoon in Rumson, N.J. ended with three first-place finishes. This is what was expected of this year's team.
Now they have their eyes set on another dominating performance. They have begun preparation for The Navy Day Regatta Oct. 8.
"We are currently in the 'load' cycle of our training," Head Coach Paul Savell said. "We have almost reached maximum volume in practice training miles. The team does a three-mile warm-up run, followed by 12 miles of rowing."
Last year at The Navy Day Regatta, the crew team competed in nine races, finishing in the top five four times.
Even after the impressive finish at Rumson, Savell is staying the course with the training of his rowers.
"From a coaching standpoint, we are still creating different combinations of rowers to see who works the best together," Savell said. "Last week's sweep at the Rumson Boat Race was such a great start for us. Everyone is focused on working hard and keeping the momentum. The competition has been strong at practice and should translate well on race day."
The senior coxswains have been taking the leadership role to mentor the new rowers this season.
"[They] have been great leaders for us and help maintain focus throughout the team," Savell said. "Kurt Linton, Pat McGann and Aleksander Radovic have the men's team practicing with a purpose each day. Liz Bratton and Julia Jackson, just to mention a few, keep the women's team training at a high level this season."
That high level of training and intensity is how champions are made. But it's that leadership that will be tested during the long hours of rowing in the next regatta. Pushing the other coxswains and staying the course are what the leaders will be preaching.
When asked about the advantage of having the regatta on the Schuylkill, Savell confirmed the assumption.
"We love racing on the Schuylkill," Savell said. "It's a big boost for us to have family, friends, students and staff all come out and watch the races at the boathouse. It creates such a great atmosphere.
"On the Schuylkill, we know all the landmarks like the back of our hands. We know where we need to make our strategic moves and how tight our coxswains can make their turns on our home water."
Expectations are sky-high going into this race, and rightfully so. We have come to expect these kinds of performances out of a perennial winner. This team's new talent is already showing, and who knows how far they can go if they keep up the good work?
We'll just have to wait patiently.