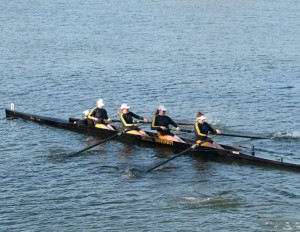 The Drexel Men's Crew participated in the George Washington Invitational April 8 and 9. Both the varsity eight and the second varsity eight won their Friday morning races. The varsity eight is currently ranked at number 14 in the nation. Georgetown posed a difficult task as Drexel's varsity eight in the Sandra Lee Sheller II just barely came away with a victory, winning by just seven tenths of a second with a time of 5:35:90. That may sound close, but somehow the second varsity eight found a way to make their race even closer by defeating Georgetown by only five tenths of a second. The second varsity eight raced in the Lois Krall boat and finished with a time of 5:41:10.
Drexel's third varsity eight and freshmen eight both raced on Friday as well, with the third varsity eight coming in second, six seconds behind the Georgetown Hoyas. The freshmen eight finished third in the same race.
Saturday morning saw more of the same for the men's crew team as the varsity eight cruised to a win over George Washington, ranked number 15 nationally, and Virginia. They crossed the line with a cool time of 5:38:10, while Virginia finished second with a time of 5:39:50 and George Washington brought up the rear. The second varsity eight team was narrowly edged out by Virginia, losing by only half a second.
Drexel's third varsity eight finished second again on Saturday, falling to a strong George Washington team by over 10 seconds. The freshmen eight also finished third again, this time losing to stiff competition from both George Washington and Navy.
April 9-10 saw Drexel Crew compete in the Knecht Cup Regatta on Mercer Lake in New Jersey. The women's varsity eight raced to a second place finish Saturday, falling only to UMass, staying alive for the Sunday races. On Sunday, they finished second in the petite final, landing eighth place overall. The second varsity eight finished third on Saturday and mimicked the varsity eight on Sunday, finishing second in the petite final and taking eighth overall. The last of the eights, the freshmen eight, finished third in the petite final.
The women's varsity four had a strong showing with a first place finish Saturday and a fourth place finish in the grand final on Sunday, only losing by six seconds to first place Boston College. Two men's teams also participated both days of the Knecht Cup Regatta, with varsity pair A finishing on the podium Sunday in third place, not bad for its first competition of the season. The men's freshmen four finished first in the petite final Sunday for a seventh place overall finish.
Drexel Crew's next action takes place when Drexel hosts the Kerr Cup Regatta on the Schuylkill River April 16.