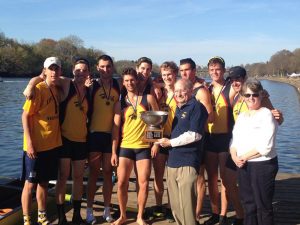 This past weekend, April 16, the Drexel University crew team hosted the 50th annual Kerr Cup Regatta, named in honor of Dr. Thomas Kerr, on the Schuylkill River. Kerr was the founder of Drexel Crew, as well as their former physician.
Drexel came away from the weekend with a whopping six gold medals. These six medals were accumulated by both the men's and women's teams. The men's varsity eight, second varsity eight, third varsity eight, and freshmen eight as well as the women's varsity four and varsity pair brought home the medals.
The men's varsity eight, in the Sandra Lee Sheller II boat, rowed a time of 5:41.88 and finished almost 6 seconds ahead of the University of Delaware to take home the gold. The second varsity eight, in the Lois Krall boat, won with a time of 5:49.52, crushing the field by nearly ten seconds. The third varsity eight, in the Annette Pennoni boat, defeated their opponents with a time of 6:01.28, while the freshmen eight completed the sweep by winning their race with a time of 5:51.14 in the Joseph Greipp boat.
On the women's side, the varsity four, racing the Sandra Lee Sheller boat, held off second-place Lafayette College and won by over three seconds with a time of 7:23.13. The varsity pair of Aubrie Lincks and Rachel Frank rowed to gold with a time of 8:12.61.
The women's pair C boat took home bronze by finishing with a time of 8:33.52 in the same race that saw the varsity pair take the gold.
The men's freshmen four lost to Delaware by less than seven seconds, finishing with a time of 6:57.37. The men's pair A took second with a time of 7:15.25, finishing roughly eight seconds behind Lafayette.
Finally, the women's varsity eight, who came in with high expectations having taken home gold in five of the last six Kerr Cup Regattas, were unable to match up to their past performances, landing at the bottom of the podium in third place. They finished with a time of 6:42.57, falling to first place Temple by about six seconds.
Drexel Crew is back on the Schuylkill April 23 as they compete in the Saint Joseph's hosted Bergen and Kelly Cups.