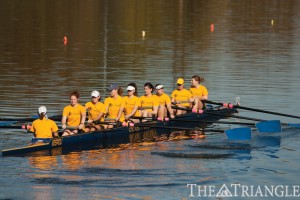 The 2012-13 season for Drexel men's and women's crew begins Sept. 29 as they take part in the third annual Rumson Boat Race in Rumson, N.J. Along with Drexel, four other schools will take part in the event: Rutgers University, Army, Villanova University and Bucknell University. For coaches and rowers alike, this race represents not only a new season but an opportunity to build upon the successes of past seasons and use them as a springboard to better things this time around.
Speaking before the race, Director of Rowing and head men's and women's coach Paul Savell talked about his team's preparations for the new season.
"This year the team had a full two weeks of preseason training and really put in some quality miles during that time," he said. "Overall, the team came back in better shape and more fit than in previous years. It might have been all the excitement from last year's successes that kept them working hard this summer."
There is good reason for Savell's team to have been excited about last season's performances. Drexel Crew had a series of triumphs in the previous season, taking home four medals in the highly prestigious Dad Vail Regatta (which included gold medals for the women's novice eight and women's second varsity), having its men's and women's varsity eight boats complete a clean sweep of the Bergen and Kelly Cups, and collectively taking home five medals at the 2012 Knecht Cup.
While not naming a specifically tough team Drexel will go up against in Saturday's race, Savell did say that things will be tricky for the team regardless.
"Early-season competition is always difficult to predict. Rutgers' men and Villanova always come to fight," Savell said. However, the biggest challenge Savell said the team will face isn't another team — it's the elements.
"The conditions in Rumson can be variable with some prevailing winds coming off the ocean. We will have to row in choppy water conditions in order to prevail," Savell said.
Senior rower Kurt Linton comes into his final season at Drexel with lofty hopes for how things will go along.
"Expectations are definitely higher this year, possibly more than they have ever been. There isn't a real desperation or panic but definitely a set of expectations we see for ourselves that we can definitely reach if we keep up the pace that we came into last season with," Linton said.
Furthermore, Linton is of the opinion that not only can the whole team improve, but specific factions of the team can also improve.
"The biggest thing for us is learning what went well and what didn't last year. We really made strides in the middle to end of last spring, and me along with six guys from varsity eight are back and know what it takes to compete at the highest level now. Last year gave us a lot of experience, and we just want to take that and jump ahead of where we would normally be or what we would be expecting," Linton said.
Ultimately, Savell wants things to start off on the right foot come Saturday, to set a good tone for the season ahead.
"We always want to perform at our best," Savell said. "Lineups are far from set at this point, as we are still competing for seats within the team. I look to this race to see how individuals handle race-day conditions."