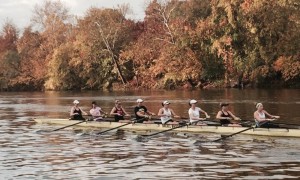 While Drexel University Crew had a stellar fall season, their last showing, unfortunately, was far from their best.
On Nov. 1, the Dragons travelled to Lake Carnegie in Princeton, N.J. for the Princeton Chase. Drexel sent nine boats to compete in four races: the men's varsity eight race, the women's varsity eight race, the men's freshmen eight, and the women's freshmen eight.
The race, hosted by Princeton University, is a regatta only open to college teams. The distance of the course is two and three quarter miles.
In a surprising turn, the best finish that any Drexel Crew boat boasted was a top-ten finish, recorded by the women's freshmen eight boat. Their time of 17:08.341 was enough to earn them seventh place. First place went to Boston University's lightweight A boat, who came in at 16:28.050, and was followed by Princeton University and the Naval Academy.
The other Drexel Crew boats weren't nearly as successful. The next best Dragon finish was a 14th place (out of 24) in the men's freshmen eight race. The University of California at Berkeley Golden Bears got the gold, followed by a second place Princeton and then Cornell University.
The varsity eight boats fared even worse. Drexel men's varsity eight A boat didn't come in until 13:51.574, which seated them in 24th place. The Dragon B boat came in 34th at 14:06.799, and the D followed a little more than 30 seconds later for 43rd place. Drexel's C boat then followed in 46th place with a time of 14:47.236.
The least successful of the boats were the women's varsity eight A, B and C boats, who earned 52nd, 59th, and 61st places, respectively. The A came in at 16:39.095, B at 17:13.934 and the C at 17:25.841. First place in this race went to the University of Virginia, who came in at an impressive time of 14:39.256. They were followed closely by Brown University who came in just six tenths of a second later.
While the team didn't give their best performance, it's important to note that they were up against some of the best teams in the nation, with the likes of the Naval Academy, Princeton and Boston.
The Princeton Chase was the last competition of the fall season for Drexel Crew. As they take a reprieve from formal competition for the winter, they'll prepare for their spring season, which will test them in some of the most competitive races of the year, such as the Aberdeen Dad Vail Regatta.