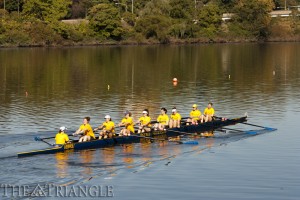 Ladies and gentlemen, ready your oars, because Drexel University's varsity crew teams are back, and it is a case of deja vu. For the second consecutive year, the Dragons christened their fall season by taking three of the four events at the third annual Rumson Boat Race held Sept. 29 on the Navesink River in Rumson, N.J.. The Rumson is a small-scale regatta with a field that varies from year to year. This year the event featured competition from Rutgers University, Villanova University, Bucknell University and Army.
The Dragons' results were nearly identical to their equally successful 2011 races, when they won all three races in which they competed. As was true last year, both women's varsity eight boats won their respective races, winning both the Governor's Cup and the Mayor's Cup for the second consecutive year. The Drexel men brought home their second consecutive Governor's Cup as well to complete a successful day on the Navesink.
The women's Governor's Cup victory came over Villanova by 27 seconds in the first women's varsity race. The team was made up of coxswain Catherine Hamilton, stroke Olivia Babiec, Colleen Delaney, Julia Jackson, Samantha Cowan, Amanda O'Malley, Elizabeth Daugherty, Mollie Cusack and bow Elizabeth Campanella, who cruised to victory with a time of 9:21.52.
The women's Mayor's Cup was also an open-water victory for the Dragons over Villanova, this time by 19 seconds, in a winning time of 9:05.82. The Mayor's Cup team featured Sarah Messenger, Amanda Kleuser, Bridget Pfeifer, Jackie Bender, Emily Gartland, Amanda Dargay, Alyssa Leahy, Jayme Batcher, and bow Elise Levito.
Over on the men's side of the waters, the races were decided by much narrower margins. Drexel's men's Governor's Cup eight boat finished ahead of Rutgers by just three-quarters of a length with a winning time of 8:02.48. The Governor's Cup team was comprised of coxswain Marc Smith, stroke Sebastian Ryan, Vanja Busic, Michael Faust, Ryan Mallgrave, John Pieper, Adam Cordi, Kurt Linton and bow Hartman Byers.
In the male Mayor's Cup, the men's second team fought hard in the fastest race of the day. The crew came within just two seats and 1.64 seconds of finishing a perfect day for the Dragons as they lost a nail-biter to Army, finishing in 7:52.70. Stroke Grigorios Papadourakis, Brian McCabe, Timothy Drake, Ryan McSpedon, Dean Hill, Jake Murphy, Jacob Smith and bow Andrew Weinstein propelled the team to the second-place finish.
After a few days of reflection on the results, Director of Rowing and head coach Paul Savell talked about the Rumson victories.
"Winning is a great way to start off the season, especially against rival teams we see often," he said. "We are very happy with the progress the team has made so far this season.
And yet Savell made it clear that he aspires for this team to reach even loftier heights than simply winning their first races of the season.
"We have what it takes to make this a strong year," he said when asked about his confidence level with the teams. "It won't be easy, but these guys aren't afraid of hard work. Last year we had historic results, and we have a lot of strong rowers returning from that group who are determined to win again this year."
Looking ahead, the Dragons' next race will be their veritable home opener Oct. 13 at the Navy Day Regatta on the waters of the Schuylkill River. Last year the Dragons finished three second-place boats.
"This race has some of the best competition we'll see all fall," Savell said when asked about the Navy Day Regatta. "We had really strong results across the board last year, and we're looking to repeat that this year."