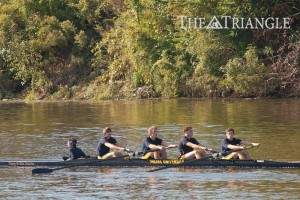 Drexel crew finished up another successful race day this past weekend, April 30, when they went to the City Championships on the Schuylkill River. The men took home the Bergen Cup with a win in the varsity eight race, while the women finished second in their varsity eight race.

The men won the race for the first time since 2007 when Temple was disqualified for a lane violation. The Owls came in as heavy favorites, as they are one of the top teams in the country this year, but Drexel has also been very strong and were able to go in and perform at their best. Their momentum came at a good time, as next weekend is the Dad Vail Regatta in Philadelphia, one of the biggest rowing events in the world.

Drexel finished the race with a time of 5:30.6, over two seconds faster than the Temple boat. They also beat LaSalle and the host of the race, St. Joseph's University. The men's second varsity finished with a solid second and fourth place finish in their races. The freshmen continued to be a bright spot for the team with another win last weekend, beating out LaSalle by nearly 10 seconds.

Other finishes for the teams were a win in the varsity four and a dominating 10-second win in the men's pair race.

The women also had a good day, coming in second — just short of a three-peat at the race. The women have also had a lot of success this year and hope to continue throughout the rest of the season. The women lost to the St. Joseph's boat with a time of 6:18.7, just three seconds behind the winners.

The women also picked up a second place finish in the varsity second eight and a third in the freshman eight.

The women's team received more good news this week, when they were presented with the Aberdeen Dad Vail Regatta trophy for their remarkable win in England in the summer of 2010. The Henley Regatta featured some of the top teams in the world and Drexel was able to shock them all and win the race.

Head coach Paul Savell hopes the team it can continue its success in the Dad Vail Regatta which takes place May 14-15 on the Schuylkill.

The team has had a season to be proud of this year. They hope to finish near the top next weekend and go into the summer on a strong note.