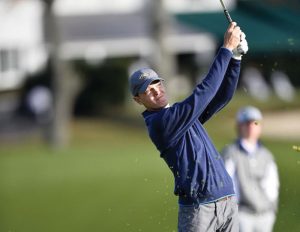 Drexel University's golf team senior Chris Crawford medaled at the United States Open Qualifier at Moselem Springs Golf Club in Fleetwood, Pennsylvania May 11. Crawford shot a cool 66, four under par, to take home first place honors in the tournament.
Crawford began his day by shooting on the back nine. Crawford birdied his first three holes, which included a par three hole 10, a par four hole 11, and a par five hole 12. He then went on to score par on the next five holes and finished the back nine with a bogey on hole 18. In total, Crawford shot an impressive two-under-par 33 on the back nine.
He made up for the bogey on hole 18 by shooting a birdie on the first hole of the front nine. The birdie on hole one moved Crawford back to three-under-par. He followed up that birdie with pars on holes two and three and then a birdie on hole four, which moved him to four under par.
Four under par is where the Bensalem, Pennsylvania native would remain, as Crawford went on to score pars on each of his final five holes.
Crawford finished the tournament by shooting even on par-three holes, three under par on par-four holes, and one under par on par-five holes. He had five birdies and 12 pars over the course of the day and shot only one bogey. His first place finish at the Qualifier was Crawford's ninth first place finish at a tournament since joining the Drexel golf team.
Crawford competed in a field with two other representatives from the Drexel golf team. Interim head coach Ben Feld participated and shot a three-over par 73. Sophomore Adam Mistretta also played at Moselem Springs and shot a 12-over-par 82.
With his comfortable first-place finish Crawford earned a spot to participate in the U.S. Open Regional Qualifier at Canoe Brook Country Club in Summit, New Jersey June 6.