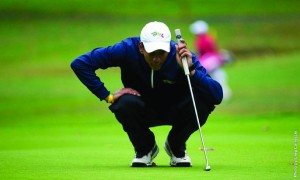 Junior golfer Chris Crawford is the Drexel golf team's constant. He has been for two years now.
And with yet another top-10 finish from the best golfer in University City, Crawford and the Dragons rolled along at the Liberty Spring Invitational in Amherst, Va., April 10-11.
The team hit the Poplar Grove Golf Course at the Liberty University-hosted invitational for the third event of the spring. As a team, the back end slouched ever so slightly and dragged the team to an 11th-place finish out of 18 teams.
But the top of the depth chart played yet another pair of pristine weekends, led by Crawford, who came within two strokes of the tie at the
top of the leaderboard.
Crawford shot a one-under-par 215 over the three rounds at Poplar, including a two-under-par second round of 70. He finished two strokes back of Liberty's Mathieu Fenasse and Isaiah logue, Okahoma University's Beau Titsworth, Grant Hirschman and Charlie Saxon, and the University of North Carolina at Chapel Hill's William Register, who all finished three-under par.
Fenasse won the tournament on the second hole of the play-off.
Crawford's play has continued to cement his standing as the best golfer in the Colonial Athletic Association after being voted the Preseason Golfer of the Year by the league's coaches.
Sophomore Yoseph Dance helped the cause with a 12-over-par total of 226. He finished 40th overall, further establishing his place as the team's consistent No. 2 golfer.
Freshman Adam Mistretta tailed Dance by just two strokes on the weekend, finishing 14-over-par at 228.
Freshman Avery Schneider and sophomore Brian Fischer, who each finished with 25-over-par scores of 239, respectively, rounded out
the Dragons' five golfers.
While Crawford, Dance and Mistretta continued to show encouraging signs, the team's 11th-place finish was its lowest in three outings during the spring season and tied its lowest-place finish of the season dating back to September.
The Dragons will continue their season down south at the University of North Carolina-Wilmington on April 22. The tournament, the final tune-up of the regular season, is scheduled just two days before the CAA Championship kicks off April 24 in Southport, Va.