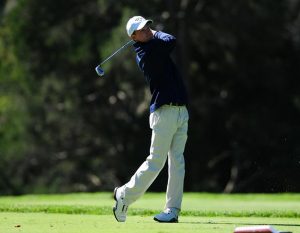 In their final appearance of the 2016 season, the Drexel University golf team finished in fifth place out of nine teams at the Colonial Athletic Association Tournament in Southport, North Carolina held April 22 through April 24.
The Dragons got off to a good start in the first round of the tournament and shot 305 as a team on day one. Their first round score was the third lowest team score in the round as they trailed The College of Charleston and James Madison University by nine and one shots respectively.
On the second day of the tournament Drexel continued to enjoy success as they posted the third best team score for the second consecutive round. In round two April 23, the only schools that showed better scores than Drexel's 291 were The College of Charleston with 282 and the University of North Carolina at Wilmington with 288.
After the first two rounds of play Drexel had a combined score of 596, which placed them in a tie with JMU for third place. Trailing second place UNCW by only two strokes after the first two rounds, the Dragons had a legitimate shot at second place in the CAA tournament.
However, Drexel struggled in the final round April 24, shooting a combined 303— the sixth highest team score in the final round.
Drexel finished the three-day CAA Championship Tournament by shooting a combined 899, earning them fifth place overall.
From an individual standpoint, senior Christopher Crawford closed out his Drexel career with an impressive performance. Crawford shot a 2-under-par 214 through all three rounds of the CAA Championship and finished in third place in the individual standings. His third place finish at the CAA marked Crawford's fourth consecutive top-three performance.
Crawford finished three shots behind College of Charleston's first place junior William Rainey and one shot behind JMU's second place junior Ryan Cole, and earned a CAA All-Tournament Team selection.
At two strokes below par, Crawford became the first player in Drexel history to complete the CAA Championship with an individual score under par. Crawford finished his career with eight first-place medals and 11 CAA Player of the Week honors, both Drexel records.
After Crawford, junior Yoseph Dance was Drexel's most consistent player at the CAA. He shot a combined 226 over the weekend and earned a 14th place individual finish.
Sophomore Aaron Fricke came in 28th overall in the individual standings and his 73 in the second round was the lowest single round score at the CAA from a Dragon who wasn't named Chris Crawford.
Junior Brian Fischer and sophomore Adam Mistretta shot a 234 and a 236 respectively for all three rounds of the CAA Championship and they both narrowly missed finishing with top-30 individual scores.