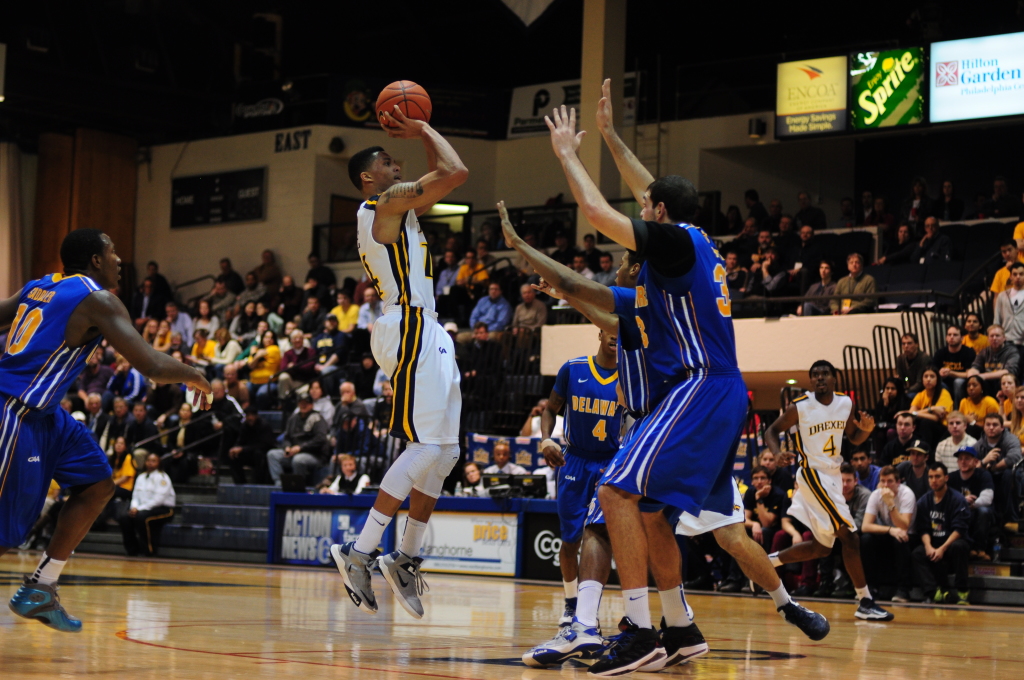 Damion Lee can't wait for Nov. 13. He can't wait to sit in a hotel room in Colorado, going to sleep knowing game day awaits him on the other side, a chance to be on the Coors Events Center hardwood with his teammates.
By the time Nov. 14 rolls around, it will be 13 days short of a year since the last time Lee played meaningful basketball for the Drexel men's basketball team.
On the night before Thanksgiving, Lee suffered a torn anterior cruciate ligament in the second half of a close contest with the University of Arizona Wildcats, at the time the fourth-best team in the country.
He couldn't believe it.
"When I first went down, it was tough just because nobody wants to hear that you have a season-ending injury, and that you'll miss the whole season," Lee said, 11 months after the horrific injury. He underwent surgery in the days following, and was cleared for full action Sept. 12, nine months out from his surgery.
He spent the final four months of the season riding the pine, unable to don the blue-and-yellow jersey he felt so comfortable in.
"It was a struggle, just sitting there, watching the game from the sideline when I felt like I could have been of impact if I was out there on the court," Lee said.
The junior wanted to be the team's third scoring option behind now-graduated guards Frantz Massenat and Chris Fouch, two all-time Drexel greats who were tasked with orchestrating an offense that, after Lee's injury, had very little support.
But Lee took advantage of his time alongside his coaches. He observed, he learned, and he said he's ready to bring a new perspective to his game, as well as the team.
For a young man who chose Drexel because of his desire to learn from the experienced James "Bruiser" Flint on the art of coaching, the time off the floor and in the coach's box was almost a blessing in disguise.
"[Flint] always calls me Coach Lee during practice, or even when he sees me walking around, and that's actually kind of funny," Lee said, allowing a laugh where there isn't often one. He's a soft-spoken, guarded kid, not prone in his first two years to demonstrative celebrations or outbursts of any kind.
But this season Lee is intent on taking his newfound coach's perspective and bringing it to the forefront, where he will be the most experienced Dragon on the team.
With the graduation of Fouch and Massenat, Lee is the presumptive team leader, and three weeks out from the season opener he said he's ready to take on that role.
"Me being one of the most experienced guys on the team," Lee explained, "I feel like [leadership] is one thing that we're going to need that we're lacking right now.
"I know that's going to be hard to do, but it's just another challenge that I'm willing to step up to and sort of take the reins whenever things are starting to go south with the team."
In terms of his game, Lee said he has been working mainly on getting back into game shape, a level of fitness not to be taken lightly when operating in a Bruiser Flint defense. He also took the extra time off, and the extra motivation from the missed playing time, to develop his repertoire.
"I kind of put a couple of moves into my game, sort of a one-two dribble, being more of a threat on offense" Lee said. "And of course focusing on defense, what I can do to help lead the team."
He was named to the preseason All-Colonial Athletic Association First Team, an honor he'll take in stride but said doesn't hold as much weight as the most important honor of all: winning.
"All the preseason recognition is cool and all that, but for me it's really about what you do during the season," the junior said.
He doesn't hold too much stock in awards, preseason or otherwise, and he has his reasons. When he was a freshman, Lee wasn't named the conference's preseason rookie of the year, but by the time his inaugural season was in the books he had earned the post-season award as the league's best "frosh."
"My game went and showed that, and I was able to get that award," Lee said. Still, he said, for him the awards will come and go. At this point in his career, awards mean very little to him.
"It's just about winning," he said, and he means it.
Lee isn't interested in winning awards or being named to fruitless all-conference teams. He just wants to play — namely, on his home court, something he hasn't done in 19 months. His injury against Arizona came before the team's home opener last season, leaving him unable to play in front of the faithful Drexel fans.
He said that, besides the season opener in Colorado, that's what he's most excited for.
If Lee's confidence in his game says anything, the DAC Pack will be in for quite a performance when he makes his long-awaited homecoming.
"I'm confident," Lee said. "I feel like I'm 100 percent. I take care of my body every day; I get treatment before and after practice, stretch." He paused. "I'm just really confident."
And now, for the first time in almost a year, he finally has the chance to show what he can do.