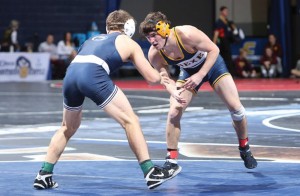 The Drexel University wrestling team traveled to Chattanooga, Tennessee Jan. 1 to participate in the Southern Scuffle. The University of Tennessee at Chattanooga played host to the tournament on both Friday, Jan. 1 and Saturday, Jan. 2. The Southern Scuffle was a two-day bracket tournament where wrestlers representing 31 different universities competed against various opponents in their respective weight-classes. Teams earned points for each bracket win their individual players were able to attain. The Dragons amassed a total of 32 points. Their team score resulted in a 19th place finish amongst the 31 teams who participated in the tournament.
Junior Matthew Cimato put on a strong performance for the Dragons, as he finished fourth in the 149-pound bracket. After three consecutive wins on the first day of the tournament, one by forfeit and two by decision, Cimato was able to make it to the quarterfinals of the 149-pound bracket.
In his first match on Saturday, Cimato defeated Central Michigan University's Justin Oliver 11-5. The victory over Oliver earned Cimato a trip to the semifinals, where he faced Penn State's Zain Retherford, the No. 1 ranked wrestler in the 149-pound bracket. Cimato lost to Retherford in a 13-3 major decision.
The defeat sent Cimato to the consolation bracket, where he faced and defeated Oklahoma State University's Anthony Collica by a score of 3-2. Following his bout with Retherford, Cimato advanced to the third-place match once again take on Justin Oliver. In a close rematch with Oliver, Cimato fell by a score of 5-2 and finished fourth on the tournament.
Cimato was one of the four Dragons to advance to the second day of the tournament. The other three competitors included redshirt junior David Pearce, redshirt senior Franco Ferraina, and sophomore Joey Goodhart. Pearce and Ferraina both competed in the 133-pound bracket, while Goodhart participated in the 285-pound bracket.
Pearce defeated California Polytechnic State University's Jason Delacruz in a 10-2 major decision in his first match on Saturday. However, Pearce lost his follow-up match to Northern Colorado University's Rico Montoya by a score of 5-1.
In his first and only match on Saturday, Ferraina faced off against Campbell University's Drew Walker and lost by technical fall.
Goodhart started Saturday with a 5-2 decision over Gardner Webb University's Boyce Cornwell, but was defeated 5-3 in his next match by Appalachian State University's Cary Miller.
Next up on the schedule for the Dragons is a visit to Annapolis, Maryland for a dual with the United States Naval Academy. Drexel will face Navy Jan. 15 at 7 p.m.