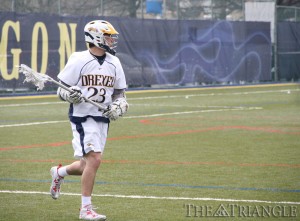 The men's lacrosse team closed the season with a bang. Drexel (8-6, 3-3 Colonial Athletic Association) took down St. John's University (4-9, 2-3 Big East) in a 14-7 victory April 30 in Flushing, N.Y.
Drexel sophomore Robert Church scored a career-high of nine points throughout the game, earning himself the title of Colonial Athletic Association Player of the Week.
"It's always an honor getting [CAA Player of the Week] especially when it's over all of the great players we have in our conference," Church said. "It would have been nice if I could have had a game like this earlier in the season where it could have had a bigger impact on our season."
The Dragons came out strong in the first quarter and quickly put four goals on the board. Scott Perri and Kyle Bergman each scored a pair, and Church contributed with three assists. Kevin Cernuto kept the Red Storm alive in the first with one goal.
Though St. John's rallied briefly in the second, their effort fell short. Colin Keegan scored for the Red Storm, bringing his team within only a two-goal deficit at 2-4. Once again Perri, along with Brendan Glynn, got around the Red Storm's goalkeeper for a score apiece.
Before the break, both teams managed to find the net once more — Perri for Drexel and Brandon Ayer for St. John's.
Even with a comfortable lead at 7-3, the Dragons kept their heads in the game.
"It wasn't hard to stay motivated, [because] we knew that St. John's was going to do what we would have done if we were in their position … fight back," Church said. "We all knew it was our last halves of Division I lacrosse for quite a while — the last [ever] for some — and we wanted to make the most of it."
Though the Dragons were motivated, so was the Red Storm. Within the first four minutes of the second half, St. John's put two goals on the board. Dan Cremens scored just under three minutes into the third and teammate Keegan followed with a goal of his own. Though the Red Storm appeared to have momentum, Drexel quickly shut that down.
Glynn and Bergman each had a goal, while Church scored a pair of his own. All of Drexel's third quarter points were scored over the span of six and a half minutes.
St. John's had one last ditch effort in the fourth when Jordan Rothman and Cernuto cut the Dragon's lead to 11-7. Those were the last goals of the game for the Red Storm.
Church caught fire in the final four minutes of the game and scored three consecutive goals.
"It was just one of those games where all the bounces were going my way," Church said. "[Nine goals] is a career game for me and I'll remember it for a long time."
Church ended the season with 27 goals, 22 assists and a total of 49 points. Even with his accomplishments, his incentive behind the win lies in his teammates.
"Obviously we wanted to end the year off with a win but there was some extra incentive to send our seniors, Scott Perri, John Ciavarelli, David Sleeper and Dan Layfield, off with a 'W,'" Church said. "They have done so much for this program and been such great leaders and mentors and we owed it to them to send them off the right way.
"The year didn't go as planned, not even making the conference tournament, so we had to finish off the year on a good note somehow, and beating St. John's did that for us," Church said.
Perri closed his career as a Dragon with a triumphant 2011 season. He had a total of 39 goals, 27 assists and 65 points. He led the conference for each category and finished his four-year career 11th all time in goals scored for the Dragons with 89.
Perri and Church accumulated a combined 115 points this season alone, which is currently the most of any pair nationwide this season in the NCAA.
"Scott is going to be a huge loss to our team and I'll probably be the one to miss him the most," Church said. "I've never played with as great of a passer as Scott and its going to be tough adjusting to Drexel Lacrosse without him by my side on attack. With that being said, it just leaves a spot that someone is going to have to step up and fill, whether it's a freshman or returner."
Church hopes to be one of the team leaders for the seasons ahead. He has set high goals for himself and his team, such as winning the CAA tournament, advancing to the NCAA tournament and ultimately winning a national championship.
As Church said, "I plan to just keep doing what I do best and doing whatever I can do to help get our team wins in the future."
The Drexel lacrosse team may be losing some great players, but they still have a bright future ahead. With help from Church and other returning players, the Dragons will certainly be a force to be reckoned with.