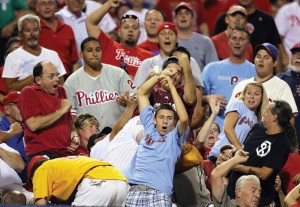 It has been a little over a year since I have visited this topic, and unfortunately I have recognized a set of new violations committed by Phillies fans recently. Last season, we discussed grown men bringing their gloves to the game, the wave, and my personal favorite — the between-inning wedding proposal.
We have one of the best ballparks in the country with one of the best teams in the league. Our starting rotation could be considered one of the best ever assembled. I just use this article to bring us back down to Earth for a couple minutes to ensure we do not get irresponsible with showing our fanhood.
This year's list might strike the hearts of some devout Phillies fans, but it's necessary to help prevent poor fan behavior from continuing at Citizens Bank Park.
Exotic Colored Phillies Hats
There is nothing wrong with getting a variation of a Phillies cap or a throwback hat with the classic maroon color. But the next time I see a fan with an electric blue hat with a pink Phillies symbol I am going to go Ron Artest on it. Hats are made to be worn in support of the team, not as a fashion statement. When buying a new hat this season, stick to the classic colors and you can't go wrong.
Can't afford the new T-shirt big guy
I am going to make this simple: fans cannot wear former Phillies' jerseys to the ballpark if the player is still in the major leagues. That means no more Jayson Werth or Pat Burrell jerseys. And yes, this also applies to the 10 people who haven't burned their Scott Rolen jerseys yet. These players are now in the organization's past and they will not become throwbacks until they hang up their cleats.
Give the ball up, dude
Here is the situation: Ryan Howard, your favorite player, fouls a towering fly ball up to the 300-level toward your seat. You have a beer in one hand and reach for the ball with the other. Keep in mind, this is a tough ball to catch considering it came off Howard's bat. You lunge at the ball and snatch it cleanly out of the air, without spilling a sip of your tasty nine dollar beverage. The crowd gives you a nice ovation and then what happens next? If you thought to yourself "keep the ball to commemorate the memory," you are part of the problem. The answer is, you look to give the ball to the closest youngster around. I know you want to put the ball onto your desk at work so you can tell everyone all about your catch. But think of it this way, that kid will get much more enjoyment out of the ball because he or she will live to tell about it for many more years than you have left … okay, that was a joke. But seriously, give the ball up and make a kid's day.
Booing Cole Hamels in Game 4 of 162
Philadelphia fans have the ability to let their players know they are underperforming. On April 5 of this season, the fans at Citizens Bank Park had a major lapse with this ability. Cole Hamels was in the process of throwing a pretty rough game during his first outing of the season. But that's the thing; it was his first game of the season. Instead of realizing this, and remembering that Hamels was the 2008 World Series MVP, the fans decided to "boo" him just before he exited the game in the third inning. His line was 2.2 innings, seven hits and six earned runs. Yes, I realize that is terrible, but Hamels is a homegrown ace who won Philadelphia a World Series with two clutch performances on the biggest stage. There was no reason for fans to forget Hamels' past just because they were frustrated with one of his outings. If fans abuse "the boo," it loses its impact. We've got to be appropriate with them.
Okay, that is enough of being an angry fan. Keep these things in mind next time you go to the ballpark. Other than that, enjoy this team one game at a time, one ace at a time.