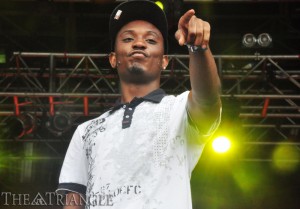 Basketball fans rejoice.
It is time to escape the reality that is the NFL's 1-4 Philadelphia "dream team," and there is no longer a need to feign interest in early-season hockey, and yes, it's time to stop dabbing the tears off of your cheeks with your Phillies rally towel. The start of a brand new college basketball season is just around the corner.
At Drexel, that means Midnight Madness, and this season the Dragons look to start things with, dare I say it, a "bang."
Hip-hop sensation Chiddy Bang will be performing this year at Midnight Madness, held at the DAC Nov. 5, as part of the fusion between basketball and music. Midnight Madness is free to anyone with a valid Drexel student ID, and guests are welcome for $10 per ticket.
"We think that this blend of basketball and concert will be a fitting welcome to school for everyone as well as a massive pep rally for the upcoming basketball season," DAC Pack President Anthony D'Angelo said.
Midnight Madness is a college basketball tradition that was originally conceived to give fans the opportunity to watch their team's first organized practice to kick off the season. Now, it has turned into one big party and a hype-building machine for the upcoming season. Drexel has been doing a small-scale version of Midnight Madness for five years, but this season Drexel and the DAC Pack wanted to go bigger.
"In order to have the type of event we pictured in our heads, we needed to bring in a performer," D'Angelo said.
On Chiddy Bang's official Twitter page, the location section reads, "On ya campus," and for all Drexel students, this will actually be a true statement come Nov. 5.
"The fact that Chiddy Bang is performing at Midnight Madness for Drexel Basketball says a lot about where we have come," D'Angelo said. "First and foremost, it says that Drexel University has the faith in the program to warrant a concert being put on for them, and it also says that they have faith that the DAC Pack can put on a quality show for the student body."
The excitement from midnight madness should carry over to the start of the season as the Dragons, 21-game winners last year, return many key players from that team. Although last season's leading scorer, Chris Fouch, will miss the start of the this season coming off knee surgery, the Dragons have enough depth and veteran leadership to prevail.
Of course, one thing all good teams in any sport must do is defend their home, and that is exactly what Drexel did, going 12-2 at the DAC. They hope to do the same thing this year.
"Drexel's record at the DAC last year really spoke to how good our team was at protecting their home floor and to how the DAC Pack is the greatest fan section in the city," D'Angelo said. "Since we are so close to the action, the DAC is a pretty intimidating place to play."
Drexel students are very fortunate not only to have a great men's basketball program but to have so many winning teams on campus, and D'Angelo encourages everyone to support them.
"It is important for students to support all of our sports teams, not just basketball, because they all wear Drexel across their chest and bring a tremendous amount of pride to our campus," D'Angelo said.
Whether you are a die-hard basketball junkie or don't even know the ball is round, Midnight Madness is a great way to support your school, see some live music and have a great time.
Let's just hope that this year's midnight madness is the first step toward March Madness for Drexel basketball.