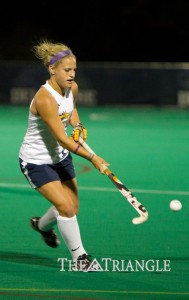 Women's soccer head coach Ray Goon didn't doubt that Kim Chiarelli would be a good field hockey player when, after playing her four years of collegiate soccer under Goon, she decided to give field hockey a try.
"Not only is she gifted athletically, but she has the level of determination that sets her apart from most athletes," Goon said. "Whatever the sport, I wouldn't bet against her."
Chiarelli, now a fifth-year senior, took the Drexel sports scene by storm when she joined the soccer team as a freshman. The New Jersey native was named to the All-Colonial Athletic Association Rookie team that year, and from then on she was cemented as a leader on the squad all the way through her senior season. She was named captain and started in all 19 games, scoring two goals and adding five assists.
"Kim was a fierce competitor and became a tremendous leader for our program," Goon said. "She wanted to win at everything. Not just games, but every drill or training competition, even if it was rock-paper-scissors, she wanted to come out on top."
Perhaps this provides insight into how someone can so seamlessly and successfully transition from one sport to another. Not to mention different positions entirely, as Chiarelli was a position player in soccer and now a goaltender for the field hockey team. It certainly takes a high-caliber athlete, but also someone with a thirst for competition, something many athletes lose. But, all of these things still don't equal success — Michael Jordan hardly had any dirt from the baseball diamond on his cleats before he was back in a Bulls jersey.
Field hockey head coach Denise Zelenak believes that Chiarelli's work ethic has allowed her to pick up field hockey so quickly.
"Kim works hard at practice and has done everything she can to learn this new position — a real team player," Zelenak said. "As for fitting in with the team, it was a seamless transition. She is a field hockey player."
Not only is Chiarelli a field hockey player, but she's a good one.
Chiarelli has played in 11 games this season and has posted a record of 5-3 with one shutout and a solid goals-against average at 2.02. She also leads the 10-5 Dragons with 38 saves on the year. Chiarelli is coming off one of her best games of the season with an upset win over Louisville in which she made three huge stops leading Drexel to a 2-1 victory.
Zelenak certainly took a leap of faith a few games into the season when she made the talented, but raw and untested Chiarelli her regular starting goaltender. Of course, there are few athletes in the country that can give a team the competitive edge that Chiarelli does.
"Kim brings athleticism, enthusiasm and competitive experience to our squad," Zelenak said.
Zelenak credits her coaching staff for molding Chiarelli into one of the most feared netminders in the CAA.
"We are fortunate to have a great staff and wonderful team who helped guide Kim through the early steps," Zelenak said. "Essentially for us, it's about giving her the right information and pointing her in the right direction."
Although it is only her first year on the team, Chiarelli has no problem making her presence heard and felt. She has carried the role of leader from soccer to field hockey and has earned the respect of her teammates.
"Her attitude is fantastic. She gets better every day, she's mature, she's mentally strong, she definitely talks back there — she doesn't want people in there shooting — and I think that that really pumps up the rest of the team, and I think they play harder for her," Zelenak said.
Now as the field hockey team gets ready for the last four games of their season and makes a push to the NCAA Tournament, there is one thing everyone should keep in mind: no matter the sport, do not bet against Kim Chiarelli.