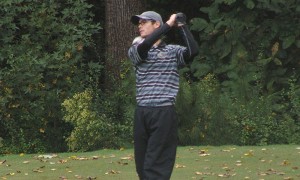 The golf team at Drexel University has been generally dominant at the beginning of their season, starting strong with two straight wins at the Keenan Invitational and the Tuxedo Autumn Invitational—but this week appears to be the first exception to the Dragons' success.
On Oct. 5, the Dragon golf team teed off for a rough start to the Wolfpack Invitational, which was held at the Lonnie Poole Golf Course in Raleigh, North Carolina. The invitational was hosted by North Carolina State University's golf team.
The Dragons spent the first day of the tournament near the bottom of the totem pole, notching in at 14th out of 16 places.
However, Drexel clawed back up to finish the tournament as a team with a tie 12th place, climbing two places from their original stint. Their overall score brought them neck and neck with Philadelphia neighbor Temple University.
Typical superstar Chris Crawford also seemed to be off his game. Crawford, a senior leader for the Dragons, shot a 74 on Monday and a 73 on Tuesday, giving him a total of 147 for the invitational, which measured to be five over par. He was outmatched as an individual on both days; the best individual score came from Augusta University's Robin Petersson, who finished each day with a score of 68. At a total combined score of 136, Petersson easily earned the first individual place—a whole 11 shots less than Crawford. Crawford was far from the top, finishing with a tie for 30th place.
Not too far behind Crawford was teammate Yoseph Dance, who finished with a score of 150, and sophomore Aaron Fricke who scored 151. Behind Fricke was fellow sophomore Adam Mistretta, who finished with a 152, and finally Mike Cook, who took a final score of 154.
While this particular performance wasn't the Dragons' best by a long shot, they'll have a significant amount of time to recover and get back to work before their next appearance on the course. It will have been just short of a two-week break before they head south again for the University of Maryland Invitational Oct. 19.
Their fall season will come to an end not too long after their trip to visit the University of Maryland Terrapins in Rockville, Maryland. Following their trip to Maryland, the team will play two more invitationals: the ODU/OBX Intercollegiate at Kilmarlic Golf Club in Powells Point, North Carolina, and the City Six, held at Merion Golf Club in Ardmore, Pennsylvania.