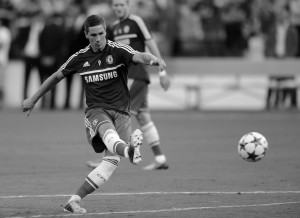 On April 11, the Union of European Football Associations held an early morning draw for the semi-finals of the Champions League. The group consisted of powerhouses Bayern Munich, Real Madrid, Chelsea and relative newcomer in Atletico Madrid. Each won their respective quarter-final matches in some sort of drama, from Chelsea's last-minute goal versus Paris Saint-Germain to Real Madrid barely holding their 3-0 lead against Borussia Dortmund.
There were some concerns that Atletico goalkeeper Thibaut Courtois might be forced to sit out the semi-finals if Atletico was paired up with Chelsea. He is on loan from Chelsea and there was some ambiguity of whether the terms of his loan contract allowed him to play.
Sure enough when the draw occurred, it paired Atletico with Chelsea and Real Madrid with Bayern Munich. Early reports surfaced that Atletico would have to pay Chelsea 6 million euros if they had elected to play the Belgian international. In no time, the UEFA issued a statement that invalidated any clause that would have prevented Courtois from playing in the semi-final. However, Atletico still runs the risk of upsetting Chelsea, which could in turn jeopardize their chances of obtaining Courtois on another loan contract.
Both teams enter the matchup with tremendous amounts of momentum. Atletico is coming off a dramatic win over their Catalonian rivals in Barcelona, while Chelsea came back from two goals down to stun French powerhouse Paris Saint-Germain.
The trouble for Chelsea in this matchup is Atletico's staunch defense: the squad has allowed the fewest goals in Champions League play. Chelsea is bringing in an anemic attack, which now features wingers playing at the striker position. The big question for the Spanish side is whether goal scorer Diego Costa will come back in time for the first leg after he sustained a serious shin injury in league play April 13. If Atletico has any chances of advancing, they need to score goals at home because scoring at Chelsea's home field, Stamford Bridge, has been near impossible this year for The Blues'opponents.
In the second matchup, Real Madrid hosts reigning champions Bayern Munich. These two powerhouses met in the 2012 semi-final, in which Bayern Munich won on penalties after center back Sergio Ramos kicked his crucial penalty out of the stadium. And the background doesn't stop there —Bayern manager Pep Guardiola was nearly unbeatable against Real Madrid during his time with Barcelona, losing only twice in 15 battles.
If that wasn't enough for Real Madrid, they'll likely be playing the first leg without the services of superstar Cristiano Ronaldo. He suffered a hamstring injury in the first leg versus Borussia Dortmund and has been absent since. This is extremely crucial for Bayern, as injuries, suspensions and depth issues have made the back of their defense mightily suspect throughout the knockout stages and their recent German league games.
Heading into the clash, it seems that the teams are heading in opposite directions when it comes to momentum. Real Madrid has climbed back into the fray of the Spanish league La Liga after Barcelona lost a shocker against Granada, which put Real Madrid in a first-place tie with Atletico. Meanwhile, the Bayern have only claimed one point in three matches in league play, losing two straight games in the process. To add to the perceived complacency, they labored through an underachieving Manchester United team in the Champions League.
The first legs of the semi-finals begin April 22 with Atletico Madrid hosting Chelsea. Real Madrid will host Bayern Munich April 23.