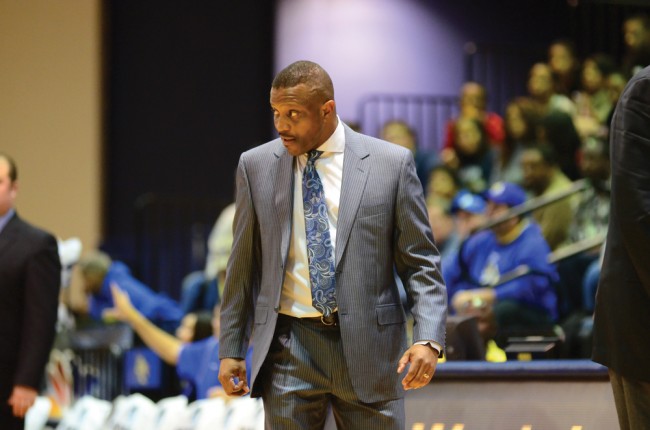 James "Bruiser" Flint will not return as Drexel's head men's basketball coach for the 2016-17 season, multiple sources have told The Triangle.
The school will buy out the final year of Flint's contract, according to sources with knowledge of fundraising efforts. Flint signed a five-year extension following the 2011-12 season.
Flint, who took over as the team's head coach before the 2001-02 season, is Drexel's all-time winningest head coach with 245 wins. His final record was 245-217.
Under Flint's guidance, Drexel experienced two of its most successful seasons in program history, including a 19-game winning streak during the 2011-12 season that nearly propelled the Dragons to an at-large bid in the 2012 NCAA tournament.
But Flint never won a Colonial Athletic Association tournament during his 15 seasons in University City, and never reached the NCAA tournament.
The last four years have been four of Flint's least productive seasons at Drexel. Since the near-tournament berth, Drexel has compiled a 46-76 record, winning just one game in the CAA tournament.
The 2014-15 season and 2015-16 season marked the first time in Flint's tenure that Drexel had a losing record in consecutive seasons.
Drexel's 6-25 record this season marked the fewest wins by a Drexel men's basketball team since the program became Division I in 1973.
According to Shams Charania of Yahoo! Sports, Doug Overton, a La Salle University alum, former St. Joseph's University assistant coach, and current CSN Philadelphia analyst, is being pursued by Philadelphia schools to accept a college coaching job.
A source suggested that La Salle's head coaching job is off the table despite the Explorers' dismal 8-20 season.
Villanova University, St. Joe's, Temple University, and the University of Pennsylvania all have relatively stable or entirely stable head coaching setups in place, leaving Drexel as the most likely landing spot being rumored for Overton if indeed he leaves his analyst job.
It would be an interesting fit. Overton's son, Miles, is expected to play for the Dragons next season after sitting out the 2015-16 season following his transfer from Wake Forest University.