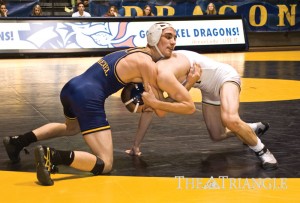 In a week that saw Drexel hold its breath to the last second as the men's basketball team fell just short of beating Virginia Commonwealth University and sealing an automatic bid to the NCAA Tournament, events at the Colonial Athletic Association wrestling championship were relatively straightforward.
Hofstra University, the strong favorite going into last weekend's event, dominated with four individual champions and two other wrestlers securing runner-up spots. The Pride's strong showing was enough to edge out Binghamton University by a narrow two-point margin for their 10th conference title in 11 years.
The Pride's P.J. Gillespie at 165, Ben Clymer at 184, Steve Bonanno at125 and Luke Vaith at149 each won individual titles, with two other wrestlers placing second and bringing Hofstra's total automatic bids to the NCAA Championships from four to six. Not to be outdone, Binghamton snatched three individual titles courtesy of wins by Donnie Vinson at 149 pounds, Justin Lister at 157 and freshman heavyweight Nick Gwiazdowski, who beat out Drexel's Kyle Frey.
Having discussed the importance of using the conference championship as a springboard to NCAA qualification, head coach Matt Azevedo would have been pleased to see three of his wrestlers make the cut despite a fifth-place finish in the overall team standings. Drexel's Joe Booth at 165, Brandon Palik at 197 and heavyweight Frey all did enough to make the cut for the NCAA Tournament in St. Louis March 15.
Wrestling in his last CAA Championships for Drexel, Frey led from the front as six of Drexel's roster made it through the first round. The criminal justice major got the better of Old Dominion University's Matt Tourdot and Hofstra's Paul Snyder in narrow single-decision matches before losing 3-1 in the final match of the day to Gwiazdowski. Frey's second-place finish was enough to garner him a place in the NCAA Championships for the first time in his Drexel career.
Ranked first coming into the weekend, Booth kept his remarkable run of qualifying for the NCAA Championships alive. For the third year running, the junior from Bayville, N.Y. booked a place in the championship with a third-place finish in the 165 category, having won three of his matches of the day before losing out on a place in the final by a 3-1 decision in favor of Old Dominion's Tristan Warner.
Strong performances from sophomores Palik, 197, and Austin Sommer rounded out a good first CAA Championship showing for Azevedo. Palik's automatic bid to the March championships earned him a mention as Drexel's Athlete of the Week (March 5-11). Sommer's 2-2 overall record on the day was enough to earn him fourth place in the 157-pound category, while his pin of Rider University's Ramon Santiago in the second period put him on six wins by fall for the season, a team high.
Azevedo's Dragons have a brief two-week period to get prepared for the championships in St. Louis.