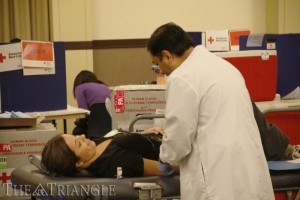 Drexel University has emerged as a powerhouse when it comes to donating blood in the Colonial Athletic Association Blood Drive Challenge. This will be the 10th year of the challenge — Drexel has won five years in a row and is hoping for a sixth.
The stars were giving blood early at Behrakis Grand Hall in the Creese Student Center. Dean of Students David Ruth, Senior Vice President of Student Life and Administrative Services Jim Tucker, Director of Athletics Eric Zillmer and Associate Dean of Students Rebecca Weidensaul all donated blood to help Drexel win the competition.
Weidensaul is the director of the event and has been in charge of organizing it for the past 10 years. Last year the event attracted over 4,000 donors from 12 participating CAA campuses. Drexel won last year's event with 1,105 donors and 1,045 productive units of blood collected.
"As usual, Drexel has really come out and has really been exemplary," Weidensaul said. "The marketing campaign, getting the word out, [and the] education. I'm really excited to have the support of [the various organizations]."
The blood drive is in fact a CAA event, and the competition is evident leading up to the event. Drexel's campus is littered with banners and volunteers giving out informative pamphlets with the message, "Help Us Save Lives" written across them.
"It is a CAA competition. We take that very seriously, [and] we take a lot of pride in [winning each year]," Weidensaul said.
By winning last year's challenge, Drexel matched the University of Delaware's previous record of five wins in a row. Winning six in a row and beating the Blue Hens: how sweet would that be?
It's a labor of love for Weidensaul, as she puts in numerous hours year after year.
"It's about saving lives and that's something we take very seriously," Weidensaul said at the event. "We've got a tradition going here, this is the 10th year. The most important thing is the good that we are doing in our community for people that we don't even know."
Winning the event year after year shows the commitment to community service Drexel has, not only in athletics but throughout the entire community.
"We couldn't do it without the help of student life, Greek life, student athletes, alumni, faculty, staff and our community supporters," Weidensaul said. "Today everyone's a Dragon, and everyone bleeds blue and gold."