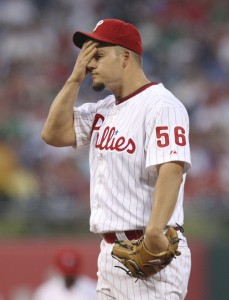 The Phillies have put together arguably their most disappointing first half of the season in franchise history in the first three-plus months of the 2012 season. The poor start to the season has caused people to evaluate the job status of General Manager Ruben Amaro Jr. and Manager Charlie Manuel, and some have even gone as far as to say they should lose their jobs, Manuel especially, after he had an extended meeting with club President David Montgomery following the All-Star break.
It's hard to imagine what they could have done to a team that missed its ace starting pitcher Roy Halladay for about nine turns through the rotation, its cleanup hitter and most productive hitter Ryan Howard for the season's first 84 games, and its three-hole hitter and arguably the best hitter, Chase Utley, for the first 76 games of the season. It would not be until July 17 that all three players were in the lineup together.
Again, what moves could Amaro and Manuel have done at that point? Amaro because he did not seem to be aware of the severity of each player's injury and Manuel because he did not have his arguably three best players available. The reason for each of these can be directed toward the team medical staff for evaluation, and it is ultimately their jobs that should be in the most jeopardy given the suspicious nature and decisions surrounding the injuries.
First, with Utley, it was quite clear that his knee injury would be bothersome for the remainder of his career and would not simply disappear. It was described as being a chronic ailment, one that would require constant monitoring.
Despite this, the medical staff seemingly went the entire offseason without at least following up on Utley, looking further into the MRIs, compiling training techniques, or anything else that was needed. Then the team appeared to be blindsided, unprepared and surprised when it became apparent in spring training that Utley's knees could not handle the physical stress.
Isn't it the medical staff's job to keep an eye on players and their symptoms if they have a chronic condition, rather than assume all is healed?
Halladay's injury was even more suspicious. There were reports in spring training suggesting that something may have been wrong with Halladay. Ken Rosenthal reported that two scouts noticed Halladay using a different arm angle and having his velocity down significantly. Right off the bat, it should have at least raised flags.
For the remainder of the season, Halladay's velocity never returned to its normal level. He and the Phillies finally did admit to an injury May 29 when they placed him on the disabled list with what was identified as a shoulder injury. But then Halladay, pitching coach Rich Dubee, and the rest of the team did not seem to be on the same page as to how long he had been injured. Then during the evaluation period of his injury, he visited a Mets doctor to have his shoulder observed.
There are too many issues and conflicting things being said, and it suggests the medical staff was not on top of this one. But the bigger question is, if Halladay apparently was injured in March, why did they let him pitch for the next 10 or so weeks and risk further injury to their best and most important pitcher?
The way Ryan Howard's injury was handled was the most mind-boggling. This one actually dates back two seasons when the slugger initially injured his left foot and leg in 2010 and still experienced pain in it throughout all of 2011. It led to discomfort in his left Achilles tendon.
So when the Phillies wrapped up the 2011 National League East crown a couple weeks early, the medical staff evidently thought it was a good idea to inject Howard's Achilles with cortisone despite many alarming accounts from other doctors and dangerous side effects, one of which is the risk of skin and soft tissue thinning around the injection site, possibly leading to tendon weakening or rupture.
Howard sat out the following week or so of games, during which the Phillies experienced what it was like without him in their lineup in an eight-game losing streak, until getting a few games in late. He did have to exit the final regular-season game, however, after having pain in the foot. He played in all five playoff games but got progressively worse and clearly was not himself at the plate.
Then, it happened — the side effects proved to be more than just "side effects." And it is not as if this was a new development in Achilles treatment: Tony Gwynn and Barry Larkin each suffered partial Achilles tears after receiving cortisone injections in that site. Howard has since acknowledged the possible link between the injection and the rupture.
Another confusing aspect is how Howard, Amaro and Manuel seemed to have different views on Howard's timetable and whether returning very late indicates he suffered a setback. Manuel claimed Howard should be back in May, and Amaro said that there was no timetable. And because there was no timetable, the fact that Howard suffered an infection did not represent a setback.
It probably was not a good idea to take a medical risk with the organization's highest-paid and most productive player. Especially given that Dr. Michael Ciccotti, who is the director of sports medicine at Jefferson University's Rothman Institute, is also the director of medical services for the Phillies. The Rothman Institute points out that studies show an increase of Achilles tendon ruptures after they are injected with cortisone. So you have to figure Ciccotti knew he was playing with fire.
The team was burned on every one of these incidents with three big players. It's unclear how much of the fault is Cicotti's and how much the entire staff deserves, especially given that Ciccotti refuses to speak on the decision to inject Howard. But there are more questionable calls, such as rushing Laynce Nix back, as he suffered a setback while rehabbing. They seemed to want to ignore possible red flags to the right arms of Jose Contreras and Mike Stutes, as both may have been pitching while injured.
Injuries derailed the team's first-half goals, and there is reason to believe it all could have been handled more effectively, and in some cases, handled in a way to prevent the injury from even taking place.
So now the team is in a tough position. The immediate goal is obviously to go out and win games, but the position they find themselves in may make that difficult as Amaro contemplates moving iconic players Cole Hamels and Shane Victorino, both in the final year of their contracts. It would seem wise to keep both players, not only from a public relations standpoint but also from a baseball standpoint as the team evaluates how big or small its window to win is. After that, they can consider if they need to blow it all up or build around pieces they already have moving forward. They now have the opportunity to do so now that just about the entire team is healthy, minus a few relievers.
All things considered, I expect Amaro to hang onto at least Hamels, and then test the market with Victorino and if he were satisfied, only then would he move him. You just have to wonder what the standings would look like if not for those injuries,
This team needs a thorough evaluation, and looking back at this season's first half, it's not just the on-field staff that needs one.