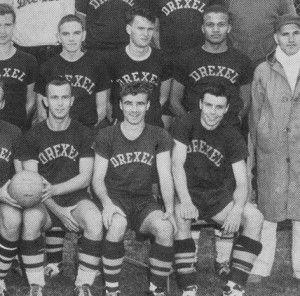 There is a saying that is sacrosanct with all team sports. It remains true whether one is gracing the elementary schoolyard , the Lucas Oil Stadium Feb. 5 or the hallowed turf of the Vidas Athletics Complex on 42nd and Powelton.
This credo states simply that "no one player is bigger than the team." And when your side, over the course of one season, has accumulated 12 wins, no losses, scored a record 76 goals, includes two first-team All-Americans, one second-team All-American, a future All-American who scored 22 goals in his rookie season, and is coached by a former All-American who has only had one losing season in 12 years in charge, it is hard to stand out.
Yet with 49 goals to his name, 17 assists — fifth all-time at Drexel — consecutive first-team All-American mentions — 1957 and 1958, respectively — a school record of 115 overall career points, Drexel men's soccer hall-of-famer Stanley "Stosh" Dlugosz is man who's hard not to notice.
Stosh arrived at Drexel in 1955 with an already impressive athletic resume. A standout on the Olney High School baseball team for four years, Stosh also played guard for the Trojans. It was on the soccer field, though, where the inside left forward caught the eye of Drexel head coach Don Yonker with his top scoring exploits in the public league and his academic prowess that landed him a place in the Philadelphia All-Scholastic High School Soccer Team.
Stosh's first year at Drexel would see him watching from the sidelines — freshmen were not allowed to participate in Division I athletics until 1972 — as Yonker's Dragons wrapped up their first Mid-Atlantic Championship in 1955 with a nail-biting win over Rutgers and an overall record of 10-3-1. The 44 goals that the side scored that year was a school single-season record, but it was one that would be smashed over the course of Stosh's stay at Drexel.
Taking his place on a forward line that included fellow All-Americans Oswald "Ozzie" Jethon — 38 goals and nine assists from 1955 to 1958 — and Bohdan Siryj — 44 goals from 1955 to 1957 — Stosh would help Yonker's Dragons to an overall record of 18-4-0 over his first two years on the side. The three frontmen scored goals by the hatful as Drexel tallied 90 goals over that period. The Dragons narrowly missed out on another MAC championship in both years with losses to rival West Chester University, in particular, being hard to swallow. Dlugosz's individual performances, though, were enough to earn him the first of two first team All-American honors in 1957.
It was the prelude to a record-breaking year in 1958 when the then-junior civil engineering major led a forward line that, although missing Bohdan Siryj, returned Jethon and featured freshman standout Igor Lissy. The attacking trio would combine to help Drexel score 76 goals that season on the way to a record-breaking season — all this while Stosh played baseball for Drexel and co-captained the soccer team with another of Drexel's All-Americans, fullback Bob Muschek.
Starting with a resounding 7-0 thrashing of an alumni side that included five former All-Americans, Drexel hit the ground running as they followed up the one-sided affair against the alumni with a 7-1 mauling of then-Western Maryland College and a 10-1 dismissal of Rider College in their next two outings. The wins kept rolling in — a 4-2 win over Elizabethtown College and a 7-2 demolition of Delaware before a 3-0 win over West Chester for the first time in the program's history. The Dragons were led ably by Stosh (six goals), Lissy (11 goals) and Ozzie (eight goals), who seemingly scored at will as Drexel raced to a 5-0 start to the season.
Drexel's momentum carried on in their next four games as they breezed their way into the southern division MAC championship final against the LaSalle Explorers, who were dispatched 7-1 thanks to two goals apiece from Stosh (17 goals) and Ozzie (16 goals). The Dragons then dispatched Johns Hopkins University to set up a championship game against Lehigh University for the MAC championship.
Going into the game with a perfect 11-0 record, Drexel duly dispatched Lehigh 5-2 on home soil thanks to goals by George Sawchak, Lissy, Stosh, and Ozzie. Stosh drew the curtains on his Drexel soccer career with his 17th assist and 49th career goal in a game that preserved the Dragons' perfect season (12-0-0, 76 goals scored, 15 conceded) and placed them in contention for the NCAA national championship.
The Dragons' record-breaking season yielded that all-important title when, in January, a panel of coaches and referees voted unanimously to name Drexel Institute of Technology the National Intercollegiate soccer champions for 1958.
1958 would see Ozzie and Stosh get their second first-team All-American bids in their final season of eligibility for the Dragons. Stosh would go on to graduate from Drexel in 1960 with a Bachelor of Science degree in civil engineering. He would supplement his Drexel degree with a Master of Science degree from Lehigh University before taking up a teaching position at Mercer Community College. Stosh held that position from 1962 to 2000, publishing multiple research papers and rising to the post of professor emeritus for civil engineering technology before his retirement.
Here at Drexel he will always be remembered for being a phenomenal player who was part of a phenomenal Drexel team. And it is for that reason that he was enshrined in the Drexel Hall of Fame class of 1971.