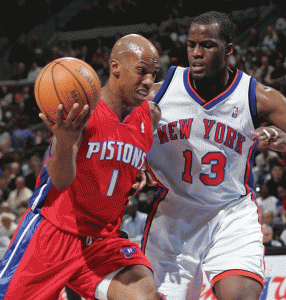 Detroit Pistons guard Chauncey Billups, left, drives against New York Knicks' Malik Rose during the first half, April 16. '06 at the Palace of Auburn Hills in Michigan. Detroit won 103-97.
This week your friends at the sports section are introducing a new column called "Blast from the Past," where we will take a look at the careers of Drexel sports legends. There was no doubting who our first feature would be about.
Most current Drexel students were probably only six or seven years old when Malik Rose cemented his place in Drexel University sports history.
On March 14, 1996, the 11th-seeded Drexel Dragons took on the fifth-seeded Memphis Tigers in a first-round National Collegiate Athletic Association Tournament matchup. That season, Memphis was led by one of the best big men in college basketball, Lorenzen Wright. Rose dominated him that day, scoring 21 points and grabbing 15 rebounds, leading the Drexel men's basketball program to its one and only NCAA Tournament game win. Whenever his back was against the wall, Rose seemed to excel.
"That was probably the best game of my Drexel career," Rose said.
Rose was born in Philadelphia and played at Overbrook High School, the alma mater of another pretty good player, Wilt Chamberlain. However, things were never easy for Rose, who focused more on playing baseball and practicing the tuba than he did on basketball.
"My senior year at Overbrook, I wasn't even one of the best players on the team," Rose said. "I was only recruited by three colleges out of high school."
Thankfully for all members of the Drexel community, he chose to become a Dragon.
During his first year at Drexel, Rose, like any freshman, had a difficult time adjusting to his new surroundings. Although he was always a good student, he was not where he wanted to be academically, and on the court he would get in furious shouting matches with officials. Rose quickly got his act together and became a dean's list student his junior and senior years. His temperament on the court became milder, and his game did all the shouting for him.
"As I grew older I got better," Rose said. "Coach [Bill] Herrion and the other coaches really helped me control my temper, and once I focused in on academics, I was able to make the dean's list."
While at Drexel, Rose, who played at a solid 6-foot-7 and 250 pounds, averaged 16.9 points per game and 12.6 rebounds per game. He was also named two-time North Athletic Conference Player of the Year and garnered the nickname "Shaq of the NAC" for his tenacious rebounding ability.
Before the last game of his career at Drexel, Rose saw his number 00 jersey retired.
"It was a great, a really big honor, especially because no one expected it to happen," Rose said.
In all honesty, no one expected what would happen next to Malik Rose.
Drafted with the 44th overall pick by the Charlotte Hornets in the 1996 NBA draft, Rose went on to play 13 seasons in the NBA. He had his best seasons with the San Antonio Spurs where he played a key role in winning two NBA Championships.
"Not until my junior year did scouts start coming to games, and playing in the NBA became a reality," Rose said.
During the title run in 2002, Rose had to fill in for ailing big men Tim Duncan and David Robinson. Rose, with his back to the wall, filled in admirably, including one game versus Seattle where he had 28 points and 13 rebounds, helping the Spurs to another title.
"I credit it to growing up in Philadelphia," Rose said of his ability to thrive in the face of adversity. "It's a tough, blue collar city, and you need to be gritty living there."
Today, Rose has teamed up with Marc Zumoff as the color commentator for 76ers games on Comcast SportsNet. He has done a great job in his first season, bringing a wealth of basketball knowledge and his great sense of humor to the telecasts.
"It's awesome. I love working with Marc, and it's a dream come true to be back in Philly," Rose said.
Upon returning to Philly, Rose has also been following this current Drexel team.
"They look really good, and they seem to be getting healthy," said the greatest basketball player in Drexel history. "I expect big things."
Rose had his back to the wall once again during the final home game in his Drexel career. Down by seven to Boston University at halftime, Rose scored 16 of his 22 points in the second half, leading the Dragons to a win and another NAC championship.
After the game, Rose fell to his knees at center court and laid a kiss on the Drexel logo.
Embracing his past and preparing for his future, in that moment, Malik Rose let everyone know that at heart, he will always be a Drexel Dragon.