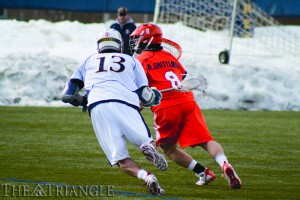 It wasn't too long ago that one of Drexel's all-time lead scorers, Colin Ambler, graduated from the University after an astonishing career. It's probable that a vast amount of students still here at Drexel recognize the name whenever mentioned.
Some people often ponder, "Where did all that talent come from? How did he get to be that good?" In some cases, it's completely random when athletes appear to be almost a different type of breed than everyone else on the field. However, for Colin Ambler, there is much credit to be given to his father, Robert Ambler, the all-time leading scorer for Drexel lacrosse.
This all-around athlete proved to be a dominant force on the basketball courts, as well as the lacrosse field. Nevertheless, Ambler only played on the courts for two years, while he finished his fourth and senior year with the lacrosse team. Ambler was honored as an All-American player at Abington High School, which kick-started his years of athletic success in the future.
Ambler has been prominently recognized among Drexel's athletic department for the past few decades after his highly earned success. By his senior year in 1975, he earned the Lt. Greene Award, which is given annually to Drexel's top graduating student-athlete. In addition, he was honored with the Epstein Lacrosse Award as the team's MVP.
This two-time co-captain's success doesn't just end there. According to Drexeldragons.com, he was an All-East Coast Conference All-Star. As a senior he played in the North-South All-Star Game and was recognized as the top senior goal scorer in the nation. He set Drexel records with 231 career points and 76 points in a season. Ambler tied the school record with 45 goals in a season and nine goals in a single game. Furthermore, he finished his career as a Dragon with 121 goals and 110 assists.
After graduating in 1975, Ambler continued on to coach lacrosse at Drexel and then at Villanova for eight years. In addition, as a teacher at Wissahickon High School, he founded the varsity lacrosse program, which he concurrently coached with varsity basketball.
For the Ambler family, lacrosse still consistently plays a huge role in their everyday lives. In 2008 Colin Ambler founded Wet Bandits Lacrosse as part of his co-op here at Drexel. This year-round club is built on improving the fundamentals and foundations of the game for players, and it offers the best experience to the community.
Both father and son have used this club as a chance to offer their combined experiences and knowledge of the sport to the community. It has successfully developed to be a premier program for all to join.