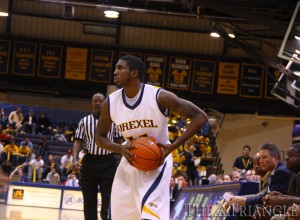 Men's Basketball
The Drexel men's basketball team has been invited to take part in the 2011 U.S. Virgin Islands Paradise Jam basketball tournament Nov. 18 in Charlotte Amale, St. Thomas. The Dragons' Colonial Athletic Association rival Old Dominion University won the tournament last year.
Drexel is one of eight teams that will attend the tournament, the other seven being Norfolk State University, Marquette University, the University of Mississippi, the University of Virginia, Drake University, Texas Christian University and the University of Michigan.
Head coach James "Brusier" Flint and his team will tip off at 2 p.m. Nov. 18 against Norfolk State for the first game of the day. In the second round, the Dragons will face either TCU or Virginia, depending on the outcomes of each round game. That game will be played either Nov. 19 or 20. If the Dragons play Nov. 20, that means they are in the winners bracket. Consequently winning their Nov. 20 game will put them in the championship conversation for the tournament.
Field Hockey
The New Jersey Senior field hockey team has chosen two Drexel field hockey players to be members of their 18-player team. These two Dragons will be playing for a chance to win the 2011 Senior Women's National Championship Tournament.
Senior back Kim Tunell was the Dragons' third leading scorer last season with 25 points (eight goals and nine assists) while leading the team in shots on goal with 52. Tunell was also tied for second on the team with three game winning goals.
Sophomore midfielder Amanda Fleischut was also selected to the team. The Bucks County, Pa., native was right behind Tunell this season, and was the Dragons' fourth leading scorer with 17 points (five goals and seven assists).
Both Tunell and Fleischut also started all 20 games for the Dragons in 2010.
Academic Performance Award
The NCAA has recognized three Drexel athletic programs as recipients of the Academic Performance Program award. These teams —women's basketball, women's tennis and field hockey — had a multiyear academic progress rate that ranked them in the top 10 percent of the NCAA in their respective sports.
The women's basketball team has won this award three years in a row, and the women's tennis team has won in two consecutive years. The field hockey team received this award for the first time ever.
"We are very proud of this Academic Performance Rate accomplishment for our women's basketball, women's tennis and field hockey teams," senior woman administrator Laura White said on DrexelDragons.com. "It is a true testament of the dedication and commitment to excellence by our student-athletes, coaches and staff."