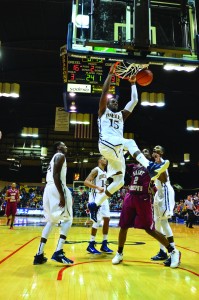 Growing up in Bamako, Mali, Mohamed Bah and his best friend Ibrahim Djambo would watch the Malian men's national basketball team, and they would dream.
"I was just waiting," Bah said on a recent Thursday afternoon. "We would watch the national team back in the day and talk about, you know, 'Maybe one day, that's going to be us.'"
Little did the two know.
Bah, a junior forward on Drexel's men's basketball team, and Djambo, an incoming senior forward at Hofstra University, were both named to join the Malian national team June 19 after 10 days of tryouts in Bamako, just a 30-minute drive from where Bah lived when he was younger.
He has a few aunts and uncles remaining in Mali, but most of his family members live in Central Africa or in Paris. With his parents, Fatoumata Sylla and Amadou Bah, and his younger brother and sister, Bah moved back and forth between West Africa and Central Africa growing up.
He moved to the United States in 2010 to attend high school, but Mali is still his home country.
The tryouts marked the first time in over five years when Bah played serious basketball in Bamako.
"It's been a long time," he said, rubbing his head as it hit him just how little he's seen of his country since crossing the Atlantic.
He's only visited Mali twice since moving to the States.
The first return trip came last summer, a 12-day jaunt when he needed to renew his visa to travel to China with his Drexel teammates. The second trip came a few weeks ago, for the tryouts.
Bah stayed in a hotel for the duration of the tryouts, because, he said, the team treated it like "a business trip." Serious stuff.
After the tryouts, however, he was able to see plenty of his friends from Bamako to celebrate his new spot on the team.
Bah will be a member of the team for AfroBasket 2015, the qualifying tournament for the African zone of the International Basketball Federation. The winner of the tournament will earn FIBA Africa's berth to the 2016 Summer Olympics in Rio de Janeiro.
Mali's best finish in AfroBasket came in 1972, when the team earned a bronze medal.
This year, Mali is ranked No. 11 of 54 in the FIBA Africa rankings, but Bah said the team is focusing on its youth and is eager to change its narrative.
"Our new generation, we want to play and we want to contribute now," Bah said. "We've got older people who have retired and don't want to come to the national team, so it's our time now to show how we can do."
He and Djambo are the only two college students on the Malian roster. The rest of the team is composed of young professional players, some from Paris and Spain. Bah said he spent time playing with plenty of the players on the team at different points of his time in Mali growing up.
Djambo, who began his collegiate career at Clemson University, sat out the 2014-15 season after transferring to Hofstra. He will play for the Pride this season, and he and Bah will go head-to-head twice during conference play, once in Hempstead, New York, and once in University City.
But for those 10 days in Bamako, Bah and his best friend were back on the same side.
As he discussed the first few days of the tryouts, Bah leaned back in his seat and groaned, a begrudging smile creeping across his face.
"Oh, it was tough," Bah said, grinning. "The coach [Jose Ruiz] is from Paris, so he's a little bit tough. He wants to see some new stuff because he doesn't want to keep losing in the Africa Cup. He wanted to bring some new things in. Mali's a basketball city, so he wanted everybody to focused on every single detail. It's so important for him.
"He's tough, but he pushes us to get better. We are young, and we've got a lot in the future," he continued.
The first three days of the tryouts, Bah said, were run intensive. After that, the games began.
By the end of the 10 days, Ruiz was pleased with what he saw from Bah, who averaged 3.9 points per game, 4.6 rebounds per game, and shot 54.5 percent from the field this past season. But Ruiz didn't want the 20-year-old to be complacent with making the team.
"[Ruiz] said he likes me," Bah explained. "He said, 'I want you on my team, but you've got to work hard. To make a team is good, but you need to play, too. It's a competition now.'"
"I made the team, but I don't want to sit on the bench," Bah said. He feels good about his ability to contribute.
And while a trip to the Olympics might be a little far-fetched for a young, inexperienced Malian national team, Bah is focused on the opportunity of a lifetime.
"Every year we need a new generation to represent your country as well as you can," Bah said. "This year is our time, I would say."