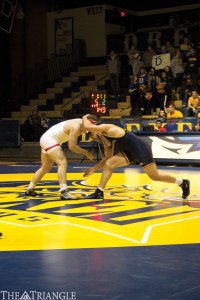 The Southern Scuffle is perhaps the most important tournament of the year for the Drexel University wrestling team, outside of the NCAA championships. A national tournament, the annual Scuffle gives the Dragons the opportunity to gauge where they stand in the country's collegiate wrestling landscape.
This year, redshirt senior Brandon Palik continued to be the cream of the Drexel crop. The Bethlehem, Pa., native placed eighth overall at the Jan. 1-2 Scuffle, winning three of his first four matches before dropping his last two. The last loss came via medical forfeit in Palik's fourth match of day two.
For his effort, he was named the male Colonial Marble and Granite Athlete of the Week by Drexel Athletics.
Also finding success at the Scuffle was junior Noel Blanco. The El Monet, Calif., native advanced to day two of competition before dropping a hard-fought 2-1 decision to Christian Barber of The University of North Carolina.
Aside from Palik and Blanco, however, consistency and success seemed to evade the rest of the Dragons over the weekend. The Scuffle may serve as a great indicator of where a team stands among their competition, but how can a team truly know where they stand if they are not wrestling to the best of their ability?
Head coach Matt Azevedo explained that some of the issues holding his mat men back from performing optimally are not talent-related and certainly not effort-related.
"Our team does compete hard," Azevedo said. "I don't think we have problem with our guys with the effort. Our effort is strong."
Instead, the team's struggles result from their youth. The Dragons are particularly young in the lighter weight classes, starting freshmen at the three or four smallest weight classes in a given match.
The young wrestlers do not lack the talent, though. What they have lacked to date is the maturity and discipline to wrestle at the Division I level. It's a mental battle. The frustrating part is that Azevedo knows they are close, and that if they can take that final step, the team will improve as a whole.
"When you don't have everything else in your life and your training plan in order, it affects you negatively. When you step out onto the mat you're distracted, you're not ready to go," Azevedo continued. "Whereas if you have everything in order, you're planning ahead and everything is set out when you're ready to compete. There is no stress, there are no distractions, and there is no chaos. Everything is in order and you can focus on what you have to do."
The issue of making weight is not unfamiliar to Azevedo. Just about every team in the country deals with the issue in one way or another. However, Azevedo has not seen the issue so widespread to the point that he has called it an "epidemic."
"This is Division I wrestling; you can't miss weight," Azevedo said. "It's completely unacceptable. I don't know what it would be equivalent to in another sport, but it's basically like showing up to a game and declaring yourself ineligible intentionally."
Azevedo continued, "I've coached many guys who have struggled with their weight. Even the teams I've coached at Drexel, [but] this has never happened. At Cornell [University], we had a couple of guys who struggled. They missed weight here or there, but it was the exception—never the norm."
When there is such an obvious disconnect between the coach's word and the athletes' actions, a coach typically turns to the team leaders to hold team members accountable. This is a strategy that coaches employ no matter the sport.
Drexel's leaders are not vocal leaders, though. They lead by example instead. But nobody is following, and Azevedo needs his leaders to find their voice. He needs his young guys to be held accountable and understand that what they can control the most should not be what lets the team down. He needs his team to become a team.
"We don't have any vocal leaders," Azevedo said. "We have guys who lead by example, but nobody is stepping up to be the vocal leader — to be the guy who says, 'This is who we are and this is what we want to be.' Nobody is holding anybody accountable. Really it's only the coaches holding guys accountable, and right now, that doesn't seem to be enough."
He added, "I think [it would be good] if we had older guys who were stepping up and saying, 'Hey, you need to cut that out. That's not how we do things around here. This is the expectation and you need to beat it.' There's just none of that going on."
The Dragons will have a week off before they host their first home match of the season against Binghamton University Jan. 19. With friends and families flocking to the DAC to see Drexel's finest in action, Azevedo and the rest of the Dragons can only hope that it will serve as the motivation they need to grow.