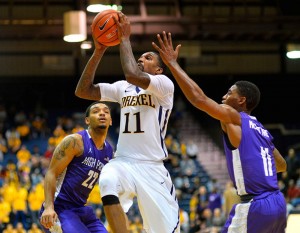 Drexel University senior Tavon Allen hit an all-time-high in his collegiate basketball career Jan. 30 in the game against Hofstra University, making him the "Athlete of the Week."
During homecoming weekend, Allen scored 33 points against Hofstra, raising his cumulative score to 1,126, tied for 24th place on Drexel University's all-time scoring list with former player Bashir Mason. After the game he was only 74 points from his personal goal of 1,200 total points.
"We haven't won many games this season," Allen said in reference to the team's 3-20 season score. "But I plan on finishing strong with my team for my last season as a Drexel Dragon," he continued.
He said that the single biggest key to his success was practicing on his own time as well as during official practice times.
"By shooting every day, I build my confidence just watching the ball go in the basket. It makes it that much easier to score," Allen said.
Allen started playing at age five, when his mother enrolled him in a basketball camp close to his home in New Haven, Connecticut. He quickly took to the sport and decided to continue playing and see where it took him.
After a gap year between his senior year at Hillhouse High School and his freshman year at Drexel, Allen felt ready to take on anything.
Now, as a senior in college, Allen looks back to his freshman year and realizes how oblivious he was to the hard work and dedication required of collegiate athletes.
"I never had to condition so intensely before my first preseason here," he remarked.
In the future, Allen hopes to stay involved with basketball, whether playing overseas or coaching younger children.
"If you want your kid to win the championship, I'm your guy," he said confidently.
With a major in communication, Allen is not sure where his career will take him, but he knows he can easily fit into any work environment he enters thanks to his winning personality.
When he isn't playing basketball, Allen enjoys video games, especially Call of Duty.
"I am going to go on record saying I am the best (gamer). If anyone wants to challenge me, go right ahead," he said.
As the men's basketball season comes to an end, the remaining teams on the schedule should watch out for this Drexel Dragon, who is determined to end his final season with a bang.