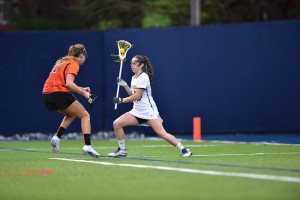 Drexel University women's lacrosse player Nadia Pelham-Lacey started off the 2016 spring season strong, helping the team with grab a win against American University and now by being recognized as "Athlete of the Week" for the week of Feb. 10-16.
During the game, the redshirt sophomore had two goals and four assists against American. Last season, Pelham-Lacey earned the second place spot on the Drexel's lacrosse team for most goals (18 total).
Pelham-Lacey found her love for lacrosse during the winter of her freshman year of high school.
With the various club sports and recruitment clinics, Pelham-Lacey verbally committed the summer before her senior year, only three seasons after she began playing.
"I played other sports, like gymnastics, field hockey and softball," she said. "But I had a greater passion for lacrosse."
Pelham-Lacey grew up roughly two hours away in Maplewood, New Jersey. There, she attended Columbia High School.
Living so close to New York City, Pelham-Lacey grew up loving the different vibes the city environment gave her. Her decision to chose Drexel was an easy one.
"I'm becoming more of a Philadelphia girl than New York, and my mom hates that," Pelham-Lacey said, laughing.
Adventuring around the city by finding new places to eat is one of Pelham-Lacey's favorite things to do here in Philadelphia. She also enjoys visiting the various museums the city has to offer.
As a pre-junior, Pelham-Lacey is majoring in business administration. With one co-op already under her belt, she looks forward to the next.
"This last one was mainly focused on marketing jewelry products to customers," she said. "My second co-op will allow me to experience other areas of the business world."
Originally starting her college education has an undecided major, Pelham-Lacey has grown a lot as a student, athlete and person since the beginning of her journey here at Drexel.
With the love and support of her mother, father and sister, Pelham-Lacey has felt like she can accomplish anything.
Her mother has been her biggest motivator through all of the decisions before and during her collegiate journey as a student-athlete.
"To know someone believes so much in you…it's uplifting," she said. "I believe in my own capabilities because of my mom."
With this support from her mother and also her coach, Pelham-Lacey survived the difficult transition from high school sports to college.
"Freshman year scared me so much, I was questioning my decision to be a student-athlete," Pelham-Lacey said.
Through last year and this, Pelham-Lacey has been immensely thankful for the strength and mental toughness her coach has instilled in her.
Pelham-Lacey said, "I have faith in myself and I know my coach and teammates believe in me too."
The Colonial Athletic Association conference should prepare themselves because Pelham-Lacey and the Drexel women's lacrosse team are ready for every game to be a battle.