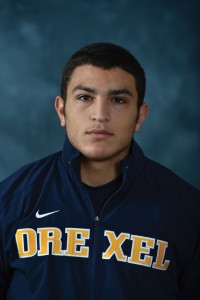 Bringing in the New Year means more than just starting new classes at Drexel University for wrestler Austin Rose. With an overall record of 9-10, Rose feels as though 2016 has brought a turning point for himself and his teammates toward success.
Rose has been named Drexel's "Athlete of the Week" for the week of January 13-19.
After being redshirted and undergoing ankle reconstruction surgery, the pre-junior is able to participate at the varsity level.
Rose grew up in Dauphin, Pennsylvania, where he started wrestling at age five. With professional boxer Manny Rose as his father, Rose says, "fighting is in the family."
After participating in boxing for two years, Rose decided to focus on wrestling. However, he was thankful for the boxing skills he learned in the gym because he believes it helped him advance his wrestling talents, even though, according to Rose, it is a completely different sport.
While beginning high school at Central Dauphin, Rose was uncertain about continuing the sport.  
As a freshman, Rose was only 103 pounds. With guidance from his coach, Rose gained weight, confidence, and fell in love with the sport all over again. His high school coach John still continues to motivate him through the seasons by coming to every match.
Wrestling got Rose through his tough years in high school, and the sport still helps him deal with life's curveballs.
"I have learned not only how to manage my time, like any other athlete, but I have learned how to be determined and headstrong," Rose said.
After getting numerous offers to colleges, Rose had narrowed his college decision down to the University of Maryland and Drexel University. Due to the co-op program and highly achieved coaching staff, Rose felt as though Drexel is the best fit for him, and he still feels that way until now. He is currently in his third year at Drexel majoring in construction management.
Rose remembers reading about how employers love hiring wrestlers.
"The day before weigh-ins, we struggle," Rose said."We can't eat and we still have to go to our classes and take exams. A lot of willpower comes from that."
If Rose could have picked any other path, he would still choose wrestling. He has learned so many life skills and values that he could not get through any other sport.
For this season, Rose aims to be the Eastern Intercollegiate Wrestling Association conference champion and all-American this season. In the future, he sees the team becoming EIWA conference champions and taking members of the team to nationals.
Thankfully, Maryland's "Fear the Turtle" mantra did not persuade Rose in his college decision .
Rose and the rest of the wrestling team are back to the mats this Friday night for their Spirit Night at 7 p.m. against Binghamton University in the Daskalakis Athletic Center.
According to Rose, the team is looking forward to seeing everyone there.