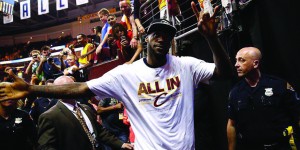 In his 2010 song, "Power," Kanye West famously postulated that "no one man should have all that power."
One has to wonder how Kanye feels about LeBron James.
As the figurehead member of the Cleveland Cavaliers, James is the most powerful player in the NBA.
Virtually unstoppable on offense and still a defensive menace, he's one of the only players that truly cannot be game-planned for.
Just ask the Atlanta Hawks, who in game three of the Eastern Conference finals actually looked to have a chance at stopping him one quarter into the game.
James finished the first frame going zero for 10 from the field and looking uncharacteristically lost. The Cavs were still in the game because of some stellar play from Cleveland's supporting cast, but it looked like the Hawks might actually be able to steal the game if James didn't recover.
But James did recover, and in a big way.
He shot over 50 percent in the final three quarters and overtime, shooting 14 of 27, and had a triple-double with a handful of minutes remaining in the third quarter. He finished the game with 37 points, 18 rebounds, 13 assists and three steals.
It's gotten to the point in James' career where the outrageousness of that stat line is ignored due to viewer fatigue. We see James put up incredible stats every single night. For a wide range of basketball fans, James' talent has become — for lack of a better word — boring.
It's absolutely time for that attitude to change before it's too late.
Let's put game three in context. The Hawks, winners of 60 games in the regular season, have had a rough postseason. They limped through their first-round matchup with a terrible Brooklyn Nets team in the first round and then proceeded to struggle to get past the Washington Wizards in the second round.
Yet even with their struggles, the Hawks are a great basketball team. They can shoot the lights out, they move the ball well and they can play lockdown defense.
In game three, they were missing sharpshooter extraordinaire Kyle Korver, as well as forward Al Horford, who was ejected in the second quarter after elbowing Cleveland's Matthew Dellavedova. Those players are two huge pieces of the Hawks' puzzle, which does not function well at less-than-full strength.
On the other hand, the Cavaliers are missing two of their three best players: Kevin Love and Kyrie Irving. Love is out for the entire postseason, but Irving is day-to-day and will likely be ready to play for the NBA finals. Obviously, teams usually don't succeed when missing two of their best players.
This isn't a usual situation and the Cavs aren't a normal team. They have the ultimate trump card on their side in James.
It's tough to understate what James has done this postseason. He's taking a team of castaway role players to the NBA Finals.
Two of Cleveland's major impact players this postseason, J.R. Smith and Iman Shumpert, were traded away from the hapless New York Knicks. Smith was basically included so the Knicks didn't have to pay his contract.
Matthew Dellavedova, a point guard from St. Mary's University, was undrafted and was only arguably the best player on his college team.
Those three players are integral parts of the team that will be facing off against the Golden State Warriors in the Finals. James hasn't been this responsible for a team's success since his first stint in Cleveland, which ended without championships.
But this is a different James. He's a better, more honed player, and after his time in Miami, he knows how to win at any cost.
The Cavs aren't stacked with talent, but it doesn't really matter. They have James, and they'll go as far as he can carry them. It remains unseen as to how far that is, but James has shown a proclivity towards taking over games and bending the outcome to his will, so it's tough to go against that.
Golden State, of course, is an absolutely dominant team and I think they're going to win the championship, but I hesitate to hand the Warriors the Larry O'Brien trophy outright.
How many times can James defeat high-level competition on his own? Will Kyrie Irving be healthy and able to share the load? How long can James' body handle this work load?
The last question is particularly important. At the end of the overtime of his aforementioned roller coaster of a game, after hitting two huge shots in overtime and willing his team to victory, James collapsed to the floor out of an assumed mixture of exhaustion and relief. He's carried his team so far, but the hardest challenge still lies ahead.
Can he do it? I don't think so. Not against this Warriors team. Not without Kevin Love. Not at age 30.
I hope he proves me wrong. I'd love to see another James championship, but it just seems unlikely. The Warriors are too deep and talented and strong defensively to lose at this point.
However, if James wins this one, he launches himself into the legitimate conversation for the greatest basketball player of all time — at least in the eyes of this basketball fanatic.