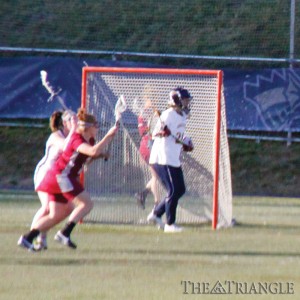 Drexel sophomore goalkeeper Amanda Santandrea positions herself in the net during the Dragons 18-10 victory over Saint Joseph's University at Vidas Field Feb. 22. Santandrea played 30 minutes, posting one save and recording her second win of the season.
It may not come as a huge shock that with Drexel's women's lacrosse team playing so well the past few weeks, one of its players was named the Colonial Athletic Association Player of the Week.
It may even be less of a shock that Amanda Santandrea is that player.
The sophomore goaltender won her first Player of the Week award after two stellar showings versus Mount St. Mary's University and La Salle University.
"I'm honored, but I'm very proud of the exposure that it gives my team," Santandrea said of winning the award. "It's nice to have Drexel represented and spotlighted in the CAA, and we're competitors, and it's great to have that recognized."
In the dismantling of Mount St. Mary's March 7, Santandrea recorded the first shutout for the Dragons since Robin Orosz did it against Rutgers University in 1992. Santandrea led the Dragons to a 15-0 victory that day.
"It's great to be credited with the shutout, but I'm the last line of defense, and 11 other girls made sure that the ball only made it to me twice," Santandrea, who was relieved by goalie Teresha Bradley in the second half, said. "It was a great team win."
Things were a little bit more difficult for Santandrea when La Salle visited Vidas Field for a city rivalry match, but she was able to hold her own and lead the Dragons to their third consecutive victory. In the 10-7 victory, Santandrea was tested early and often, facing 19 shots and recording a season-high 12 saves.
"It's easier to maintain focus when there is a lot of action," Santandrea said of her ability to keep the team in the game throughout.
Winning this award is something that has been in the making for the Schenectady, N.Y. native. She was a three-year starter and team captain at Guilderland High School and a 2010 US Lacrosse High School All-American. She was also named a New York state Section 2 All-Star and Suburban Council All-Star as both a junior and a senior. Santandrea saw some time last season as a freshman, but this season marks her first year as the everyday starter.
"I'm in much of the same position here at Drexel as I was at home four years ago," Santandrea said. "I played a little bit as a freshman and started my sophomore year after the graduation of the senior goalkeeper ahead of me."
Santandrea has fit into her new starting role with ease, as she has recorded 36 saves on the year for the 5-2 Dragons.
"Confidence is a huge part of my position," Santandrea said. "It's a lot of responsibility, which is why I chose it, but having confidence in your teammates and coaching staff helps carry much of that responsibility, and further, to be successful."
In the last three games, the Dragons are finding the success they were searching for earlier this season after two consecutive losses. Goal scoring did not seem to be a problem for Drexel, but it has been recently that the defense, anchored by Santandrea, has really gelled.
"We're realizing how much potential we have as a team, and we're working every day to reach it," Santandrea said. "We have different schemes every game and execute them."
The Dragons will have a few more out-of-conference games before they get into the most important part of their schedule, which is CAA play, and it might not be too crazy to think that Santandrea will be getting some more hardware before season's end.
"My goal every game is to make enough stops to guarantee my team's success," she said. "It's important."