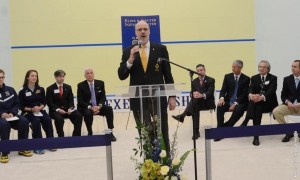 If you follow college basketball, chances are you have become tired of hearing the term "conference realignment." If not, you don't watch enough SportsCenter.
While the hottest-profile realignment situation has been the disbandment of the Big East and the creation of the American Athletic Conference, Drexel sports fans know that the Colonial Athletic Association has had its share of realignment shakeups lately.
The most recent in an ever-growing list of defections came when George Mason University, the CAA's founding member, decided to leave the conference and head to the "greener" pastures of the Atlantic 10. They follow former fellow CAA member Virginia Commonwealth University to the A-10, while Georgia State University is heading to the Sun Belt Conference and Old Dominion University is joining Conference USA.
The conference, which is adding the College of Charleston next year, is now down to just nine members, a middling number of teams for a middling conference with middling talent.
Some people are indifferent to the movement, and some are highly irritated. Drexel Athletic Director Eric Zillmer is in the latter camp.
"I think it's a huge mistake on the universities' parts. I think it's a selfish maneuver, and I blame very much the administrators on those campuses," Zillmer said when asked about his view on realignment as a whole. "I think it's bad for the sport. I mean, the sport has always been based on traditional rivalries and geographies, and so this whole realignment has put a lot of stress on the conferences."
Zillmer also disagrees with the way that schools such as George Mason make their decisions in this hectic realignment climate.
"In the past, schools were very careful about moving," he said. "When we left from America East to the CAA, we studied it, we talked about it, and it was a yearlong process that made logical sense because of what we put into it. Nowadays, schools are literally picking up their tent at night and just leaving."
It's an understandable qualm from Zillmer; while there are valid reasons for schools to leave, it seems as if none of those reasons are being exercised in the whirlwind changes taking place today.
Yet it's hard to blame the other schools for destroying the conference when it truly is their individual choice. Drexel has the same option as Virginia Commonwealth University had last year and George Mason had this year: if the conference's shape displeases them, Zillmer is able to collaborate with the administration and recommend a move.
But when discussing this idea, Zillmer reinforced his view that conference reinforcement is better than conference realignment.
"I truly believe in making our conference stronger," Zillmer said. "At some point you feel like you shouldn't just be a participant or a viewer of a movie but that you're truly in this conference. I've spent a lot of time talking to other constituents and other [athletic directors] about how we can make our conference better."
Zillmer said he believes strongly both in the conference's ability to stick together and build the brand and in the teams' abilities to continue to perform at high levels. He appreciates the rivalries and relationships that have been built between Drexel and other CAA schools, and he doesn't plan on seeing them go anywhere.
"I am happy in the CAA because it has our longest-time rival in it in Delaware," a smiling Zillmer said. He explained that, while he understands fans' disdain for the Blue Hens, he "love[s] Delaware because they're our oldest rival, and it makes so much geographical sense to stay competitive with each other."
He also cited this year's performances by Northeastern University and Towson University, explaining that "[these teams represent] an important northeastern corridor for us; these are really good schools in basketball, and we feel like the best is yet to come from these schools."
In the hectic hurricane of the realignment era, Zillmer brings a refreshing view to the table. His focus on the well-being of the conference as a whole rather than the individual school's interests shows that he plans on being a member of a hopefully rejuvenated CAA. After being a Drexel employee for 25 years, he respects the history of this school's conference involvement, something that he believes administrators at other schools overlook.
"If you study it, you'll see that new presidents and new athletic directors make many of these moves," Zillmer said. "The president at VCU had been there for two years before they left for the A-10. There's a new president at Old Dominion, and now they've left for Conference USA. George Mason's president had been there for two or three months, and now they too have gone to the A-10. What we see is that presidents not only take care of the universities and their pasts, but they now try to do something that is important for the portfolio and looks good."
Zillmer is more focused on the portfolio of the Colonial Athletic Association than on his own portfolio.
"My primary focus is to work on making the CAA a better league," he said. "I'd rather make this conference stronger and only consider [the possibility of leaving the CAA] if everything falls apart."
However, he also realizes the reality of being a 21st century athletic director: Lines of communication are never closed. When asked about other conferences' interest in Drexel switching membership, Zillmer could offer this: "The only thing I can tell you is that there's a lot of communication going on all the time. People are talking all the time to you, so I think you can read between the lines there."
He realizes the stakes of today's collegiate sports world. He sees the shifts in the CAA's makeup and what they mean for the conference he wants to remain part of, and he acknowledges that the situation is not perfect.
For any Dragons fans keeping their ears to the ground for realignment rumblings here in University City, it sounds like Zillmer is committed to keeping the Blue and Gold in the CAA.
After all, who's going to keep those pesky Blue Hens in line?