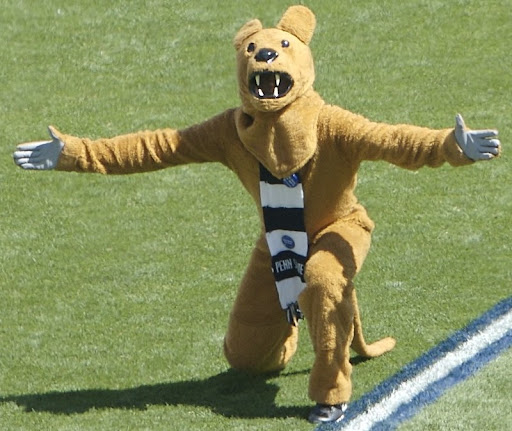 Penn State recently held their annual spring football scrimmage, the Blue-White game, on April 15. As a sports writer and a Drexel student, it was only appropriate for me to attend the game and bask in the atmosphere of their notorious school spirit to see for myself if it is as hype as they say.
Penn State rallies up their fans in a traditional, yet unique way even amidst the pouring rain, which supporters faced the day of the game. Parades, tailgates, ridiculously long porta-potty lines; even those shirtless die-hard fans with painted faces were all typical parts of the Blue-White faceoff prequel. But the Happy Valley university needed something more to really put the "WE ARE" in "PENN STATE."
Unexpectedly for a Drexel student to see, there was an annual event coined the "Blue-White Boardwalk" right beside Beaver Stadium in its very own parking lot filled with free perks. By the time we entered the gates, I was used to seeing face-painted adults wearing funky balloon hats and holding soggy caricature drawings.
That wasn't the only event going on at PSU that was free before the game started. I had the pleasure of meeting new and old alumni across the entire campus as I jumped from one tailgate to another, many of which kept me fed all day offering food and beverages, especially the World Campus tent — the PSU '89 alums still got it.
The stands were filled with blue and white when the team kicked off at two o'clock and aired on the Big 10 Network. Current and fresh players were able to show 'em what they're all about. Here are a few highlights:
Drew Allar, 15, shot a "submarine-angled" throw right past a pass rusher. He attempted 202 yards and completed the only touchdown of the game late in the first quarter. With that, team Blue led 7-0.
Omari Evans, 5, caught a 22-yard strike from Beau Pribula, 9, and made it to the three yard line before being tackled by redshirt freshman safety, Mehki Flowers.
Blue team resorted to senior kicker Alex Felkins, 91, who completed a field goal keeping blue in the lead at 10-0.
Time passed and the fourth quarter ended, resulting in a 10 point game and a win for team Blue.
I won't lie, PSU's annual White Out game is a better event to attend if you are there for a good football game, but if you are looking to bask in the school spirit, the Blue-White game goes all out for their supporters.
After flooding out of the gates of the stadium like a true Nittany Lion, I conducted an interview with a Sophomore student at the university who preferred to remain anonymous to understand their school spirit from a real student's perspective.
"Penn State puts a lot of time, money and effort into their sports programs. I think it's important to support that because it is such a big part of what they do here. Also it would be a shame to miss out on all the fun you can have at the events. With that, the school spirit really brings everyone together and is such a great experience to make connections and life long friends," the interviewee mentioned on the importance of school spirit.
It is about more than just going to the games, it also takes a lot of commitment, too. "Before football games, the biggest thing is tailgating for sure. Copious amounts of people set up their tents at 8am and start the partying right then and there. It is actually a wild experience every time," they said.
The sophomore continued, "During football games, we definitely do some pretty unique things…[like] the notorious White Out game which is always the biggest game of the year. Another thing that we do is some game chants. The most popular one is to the tune of "Seven Nation Army" by The White Stripes where we sing "O" in tune with the song." The Blue Band, PSU's enormous marching band, isn't the only one that keeps the games musically engaged.
When asked about the alumni presence, they said, "I think sports culture is a good part of why alumni continue to be associated…I do think [alumni] love this school so much because of the academic programs and people that help them along the way. Penn State alums love to help students and that culture is passed down to future alumni because a new student is in their position."
Before I knew it, the fun was over and it was time to head back to the city and return to Drexel. Even though our community at Drexel is not the size of the Happy Valley community, it was very comforting to return back to the welcoming arms of Mario and the city lights.
So, to answer the question: yes. Penn State knows how to rally a crowd and maintain the hype. The high energy that Penn State embodies is truly an adrenaline rush and something everyone should try to experience at least once if they are big into football. Though the tailgates will be missed this summer, all of that will be returning this Sept. 2, where the Lions have a date with West Virginia's Mountaineers- undoubtedly a fantastic opener for the season.