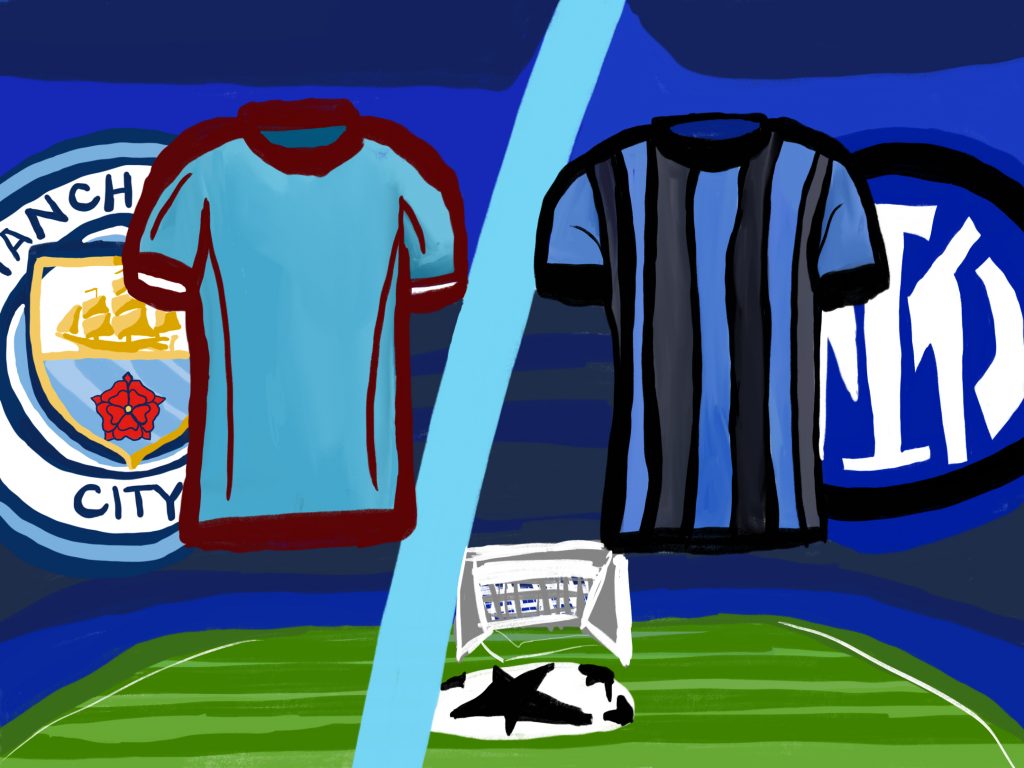 The showpiece match and most important game in European club football is finally here. After seventy-eight total teams participated, only two remain, with the crown for the King of Europe on the line. Manchester City from England and Inter Milan from Italy both have a shot at that title, but these teams historically, culturally and stylistically represent vastly different footballing mindsets. Manchester City is no doubt the best team in the world currently, effortlessly smashing all opposition that stands in their way, but their success is relatively new. Inter Milan, on the other hand, is nothing to scoff at. They are one of the most successful and trophy-laden teams in Italian and European history, recently crawling their way back up the football hierarchy. Who will prevail in the 2023 Champions League Final?
Before we look at how the teams line up against each other, let's go back and see how they got to this point. Manchester City was drawn into Group G alongside Sevilla (Spain), Borussia Dortmund (Germany) and Copenhagen (Denmark). With their new signing, Erling Haaland, adding to their already world-class squad, Man City cleaned up shop in the first round without breaking a sweat. Despite two 0-0 draws late on, the Citizens won every single game, including a 4-0 destruction of Sevilla (who would go on to win the Europa League this season) and a 5-0 demolition of Copenhagen.
Into the Round of 16, Manchester City were set to play RB Leipzig and after a comparatively subpar spell in terms of results during the beginning of the year, the Citizens stumbled a bit in the opening 1-1 draw. All doubts were immediately tossed out the window after they surged back with a 7-0 drubbing in the second leg, where Haaland scored five goals.
Bayern Munich, the tournament favorites at the time, were Man City's next opponent. While there was some managerial drama behind the scenes in Bavaria, they were still a serious opponent. You wouldn't have guessed that by watching the game, however, as Man City crushed them 3-0 with a fantastic performance before solidifying their victory with a comfortable 1-1 draw in the second leg.
Up next was Real Madrid, the reigning champions, the most successful team in this tournament and the same club who eliminated Man City at this very stage last season. History looked to repeat itself as Real Madrid looked very strong in the opening 1-1 draw in the first leg, but in the return fixture, Manchester City achieved revenge after they dismantled Los Blancos 4-0 in one of the greatest team performances ever in football history.
Man City was able to engage in yet another late-season grind, winning game after game, snatching the Premier League title from Arsenal before also beating their cross-town rivals Manchester United in the FA Cup Final. If they were to win the Champions League, they would complete a historical treble.
On the flip side, Inter Milan have had a very different path to the final. They were drawn into Group C, the group of death, with Bayern Munich (Germany), Barcelona (Spain) and Viktoria Plzen (Czech Republic). As the name suggests, this group was very tough and while Bayern outplayed Inter on both occasions, Inter earned an impressive victory over Barcelona at home while also grabbing a 3-3 draw at the Camp Nou. Because Inter took care of business against Viktoria Plzen, that meant they qualified for the knockout rounds at the expense of Barcelona.
In the Round of 16, Inter was tasked with taking down Porto, the Portuguese giants. While Porto might not have the illustrious squads of Europe's top-elite, they still have one of the strongest defenses in the world, and Inter only edged through due to a deflected goal from Romelu Lukaku late in the first half. That being said, Porto was unlucky not to equalize in the next leg.
Another Portuguese juggernaut awaited Inter in the quarterfinals, this time Benfica, who were one of the most exciting teams in Europe this season. Despite going through poor domestic form, Inter pulled off an impressive 2-0 win before holding on for a 3-3 draw in the second leg to beat out their opponents.
The semifinals bore witness to the Milan derby as Inter Milan faced off against their eternal rival, AC Milan. With a performance that will be remembered in Italy for ages, Inter wiped the floor with their San Siro neighbors in the first leg, winning 2-0, a score which could've been much higher. A lone Lautaro Martinez goal in the second half killed any chance of an AC Milan comeback.
In Serie A, Inter have had an inconsistent season, going through poor streaks of results in the fall and spring. But since the beginning of May, Inter have actually been in great form, securing a top-four finish and winning the Coppa Italia against Fiorentina.
But how do Manchester City and Inter Milan shape up against each other? Who will win the tactical battle between managers – Pep Guardiola or Simone Inzaghi? Man City will likely look to choke Inter, as they do all their opponents, with intense pressure and dynamic interplay along the wings to the center employing players like Jack Grealish, Bernardo Silva and Kevin De Bruyne among others. It is hard to imagine any team surviving under this, but that being said, Inter have one of the most resolute backlines in Europe, possessing ball-playing center-backs like Alessandro Bastoni who are experts at playing-out-the-back. Inter will be content with absorbing pressure, too, given they often score many goals through counter-attacks. But can Inter do what teams like Bayern, Real Madrid, Liverpool, Arsenal and Manchester United could not?
All logic points to Manchester City finally winning their first Champions League but football doesn't often allow silly things like logic. As long as Inter Milan are in the match, they have a chance.