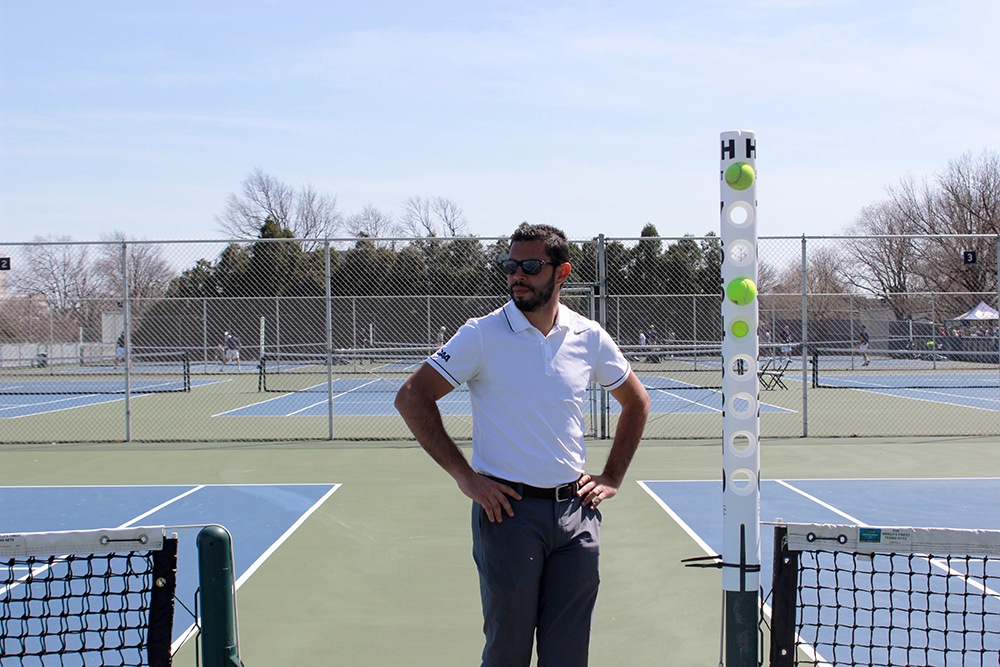 MEHDI RHAZALI STRADDLES A navy-blue folding chair, his left hand picking at his mustache and watches history dance between two pairs of tennis rackets. A return shot thumps the thick edge of the net on the opponent's side and falls delicately to the hard blue court. One point down, three to go.
The Drexel University tennis teams are facing the University of Delaware on a clear-blue Sunday afternoon in mid-April. Rhazali's women's team is looking for its 15th win of the 2014-15 season, a total the Dragons have never reached.
The 15th win would be another big, if largely symbolic, step for Rhazali. It's his third year in control of the school's tennis programs, and Rhazali is deep in his quest to make Drexel tennis a respected program in the NCAA landscape.
* * *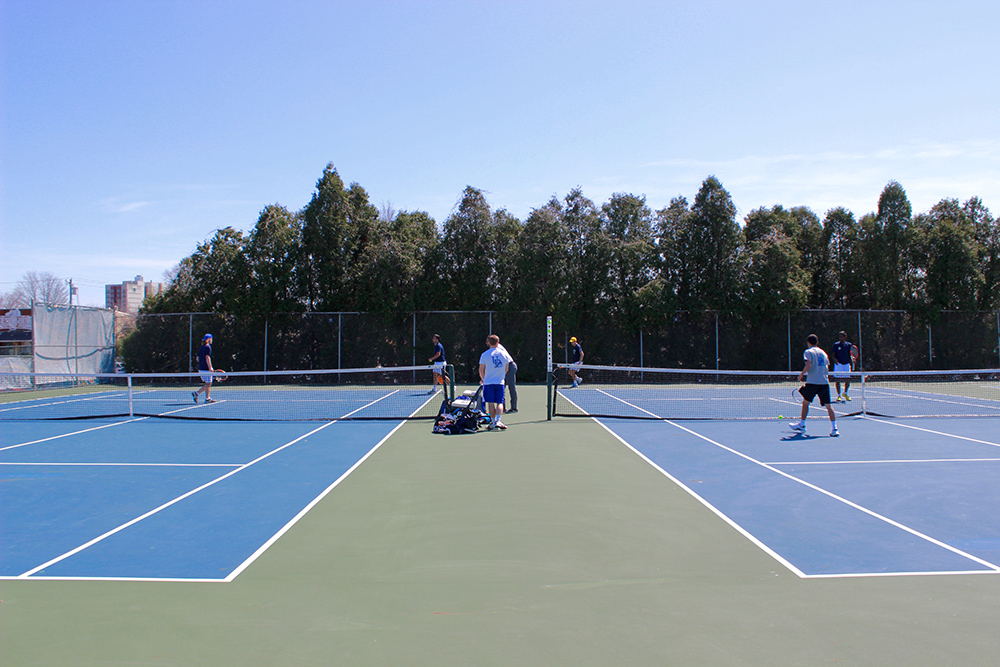 A 2011 DREXEL GRADUATE and former Dragon tennis player himself, Rhazali first set foot on campus in the summer of 2009. After a three-year career and one season as an assistant coach, he was in charge of both the men's and women's programs.
Though he'd built his collegiate identity on playing Division I tennis from a young age, Rhazali had never considered being a tennis coach.
"I was thinking about transitioning to finance," he explains, sitting at a booth in a dimly-lit Philadelphia restaurant two days before the match against Delaware.
He orders a cup of seafood bisque and a glass of water and talks about how tennis is his life now, how it consumes his days and nights.
Today, he's wearing a white sweatshirt emblazoned with a blue Germantown Cricket Club crest. When he's not talking with his players in his office or holding team meetings at Starbucks or giving his players academic advice before they think to ask their academic advisors, Rhazali works his second job as a tennis instructor at the nearby cricket club, a 15-minute drive north from his apartment just off the Ben Franklin Parkway, where he lives with his wife, Rachel.
A dozen minutes into the meal, Rhazali still hasn't touched his bisque, opting instead to tell me about the tennis club where he played during his childhood in Rabat, Morocco.
He moved to the country's capital as a child when his father received a promotion. The family's new house, one of 10 in a small complex, was a stone's throw from PTT Tennis Club.
"All the neighbors played tennis," Rhazali says. "Everything was surrounded by tennis. We had swimming and we had soccer, but tennis was something everybody could play. Especially in Morocco, at that time, if you were rich or you were poor, or any class — tennis is affordable at that level."
After watching his older brother, Faycal, excel in local tennis tournaments, Rhazali was inspired to give the sport a try.
When Faycal returned from his first year of playing tennis at Radford University in the United States, Rhazali took it one step further.
He wanted to get good at tennis. Good enough to wear university-sponsored tennis gear. Good enough to play for a Division I program.
If he was going to play Division I tennis, he would have to learn to speak English. At 16, Rhazali didn't speak a lick. He spoke French. His accent is still thick, handicapping his annunciation as he explains the trials he went through to learn the United States' native tongue.
There were tests. There was failure.
There were English lessons from a California native. There were episodes of Prison Break with subtitles.
There was an offer to play tennis on scholarship from the University of Alabama at Birmingham.
"I had a very good offer," Rhazali says. "And I panicked."
There were more tests. There was more failure.
There was no longer an offer from UAB.
* * *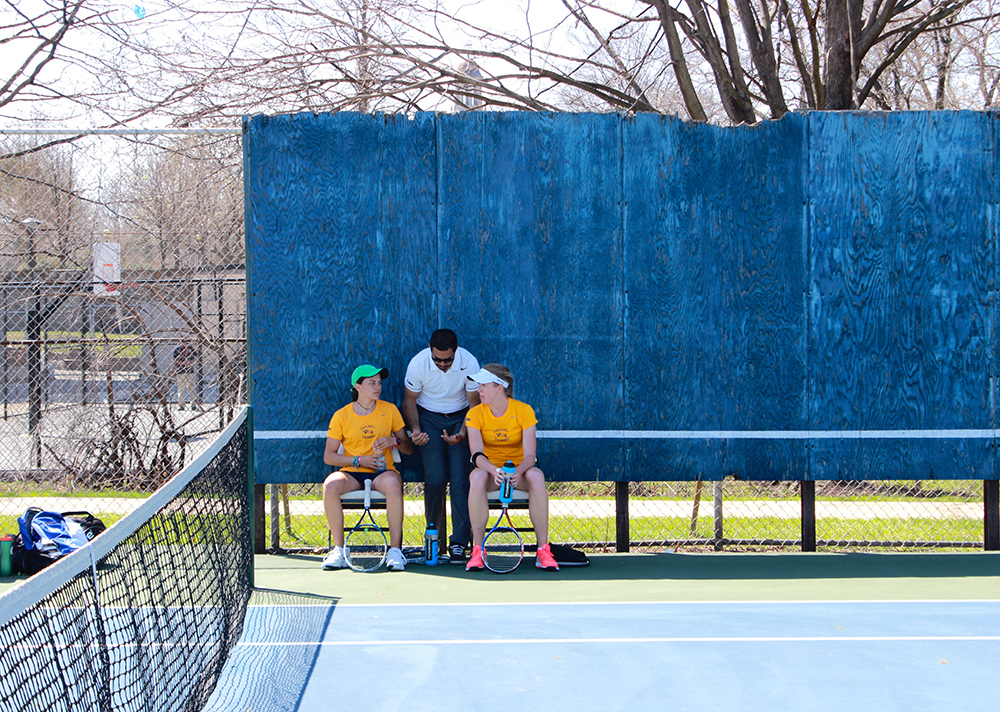 EVENTUALLY RHAZALI'S ENGLISH PROFICIENCY and test scores progressed to a point where he was able to cross the Atlantic Ocean and reach Mercy College in Manhattan. He excelled on the court and in the classroom. He worked a job and earned money to pay for the daily bus trips to and from campus.
"I think that year helped me learn a lot of things that are helping me right now, talking to my players," Rhazali says. "Time management, responsibility, the value of money. I started to learn what each dollar means."
His bisque still untouched, he fiddles with the crackers that came with the soup.
But things at Mercy came too easily, both academics and athletics. And, more importantly, it still wasn't Division I tennis.
As luck would have it, Rhazali happened to know the No. 1 player at Drexel University from playing on the clay courts in Rabat. They traded phone calls, and the very next academic year Rhazali transferred to Drexel, where he spent the final three years of his college career.
Laura White, the senior associate director of athletics at Drexel and a former Drexel tennis coach herself, met Rhazali when he transferred. The first telling quality she saw in him, she said, was his busyness. He was constantly talking, constantly working.
"He's always doing something," White, who has mentored Rhazali during his head coaching tenure, says proudly. "And you know what? That helps him be better."
When it came time to graduate in 2011, Rhazali's coach asked him if he would be interested in staying on the staff and helping as an assistant. He accepted the offer, and after one season, the head coaching position opened up, and Rhazali was hired for the position.
Improving the program was the biggest goal Rhazali's set for himself when he was hired as head coach in 2012. He asked himself, he says, how he could make a mid-major tennis program relevant on a national level.
"I think a lot of people thought I was crazy," Rhazali explains, laughing as he recalls the fall of 2012. "You had people thinking, 'This guy is not realistic, this guy is not making sense.' I didn't believe it would change overnight. You have to believe it will change, but it will not change overnight."
In his three years as a head coach, Rhazali's women have racked up a 37-14 record. The men have gone 30-25. No losing seasons so far.
"This is a start," he says, touching his closely-trimmed beard. "We're not on the NCAA website. We don't matter yet. But this is a start."
He finally takes a spoonful of his soup, and then another. He's said what he needed to say.
* * *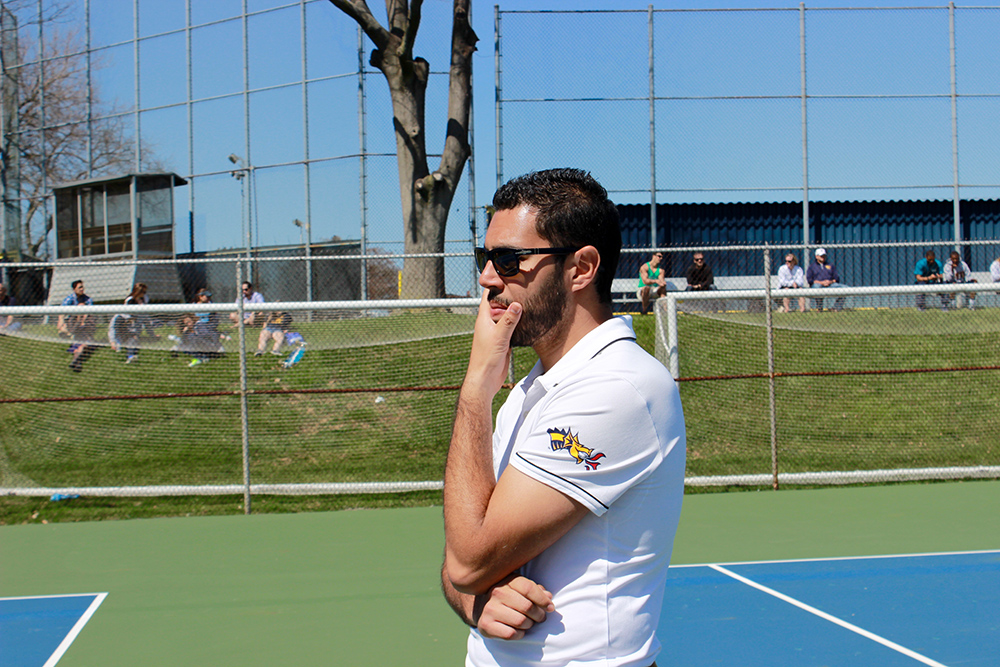 RHAZALI HAS MADE HIS life a constant search for improvement. He never seems satisfied with where he is.
The constant need to improve himself has led Rhazali to take extra coaching lessons in his first year as head coach. It led him to work six days a week and take classes on the seventh the summer before he became an assistant coach.
"You see it," White says. "You just see it in his eyes. He's so passionate."
As for that match Rhazali sat watching so intensely on the second Sunday in April?
A shutout win for the women's team and a 6-1 victory for the men, both cooler than the breeze that shook the trees around the courts. Win number 15 for the women, a program record.
This, indeed, is a start.
_____